Rapid + TCT Chicago has successfully ended a three-day exhibition from September 13th through September 15th in McCormick Place. After over a year of exclusively virtual events, slowly in-person 3D printing conferences are coming back and the most recent one was Rapid + TCT. It was a great honor to meet you and reconnect, so let's recap some highlights of the Polymaker booth.
Rapid in Chicago was a remarkable success and had over 200+ hands-on exhibits. Polymaker, as a frequent exhibitor of this showcase, displayed over 50 individual exhibits from our various 25 filaments which can cover a wide range of usages for all industries utilizing 3D printing.
A phone case printed with PolyFlex™ TPU90 in Polymaker Teal attracted lots of visitors. They first stopped by our booth and notified us that we had left our phones on the stand. Humorously, only to be informed that it was part of the display and then visitors were attracted by its high flexibility. PolyFlex™ TPU90 is a thermoplastic polyurethane and can resist ultra-violet light or sunlight.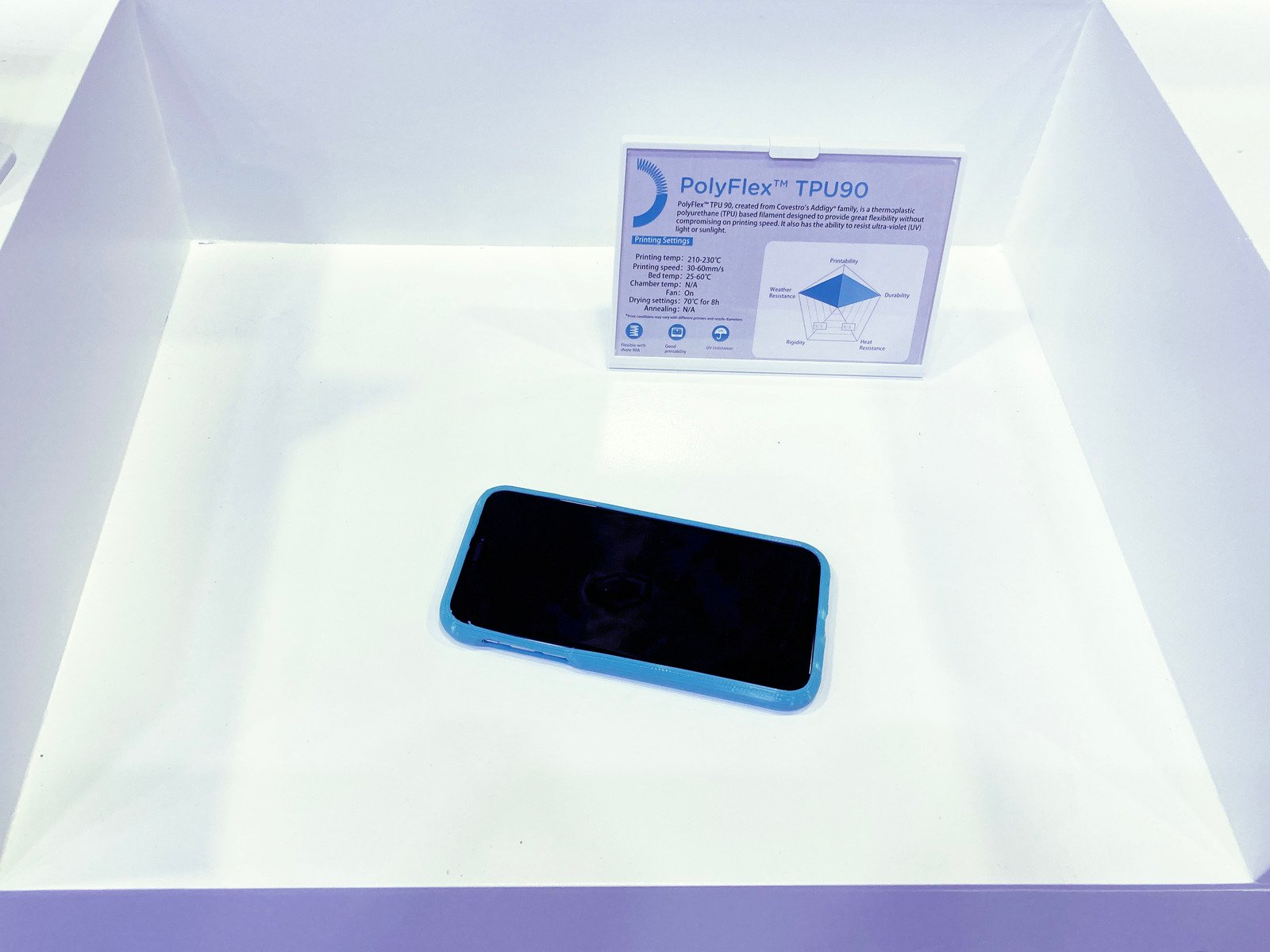 Figure (1). A phone case printed with PolyFlex™ TPU90
In addition, Polymaker's PolyWood™ 3D printed model was another great attraction. Groot, a famous Marvel character and a phone stand printed with PolyWood™ provided a straightforward visual perception of wood-mimic to the visitors. PolyWood™ is a great filament to represent these models thanks to its special foaming technology that exhibits the same density and appearance as wood with a unique matte finish. Most importantly our PolyWood™ contains no actual wood powder, which removes all risks of nozzle clogs.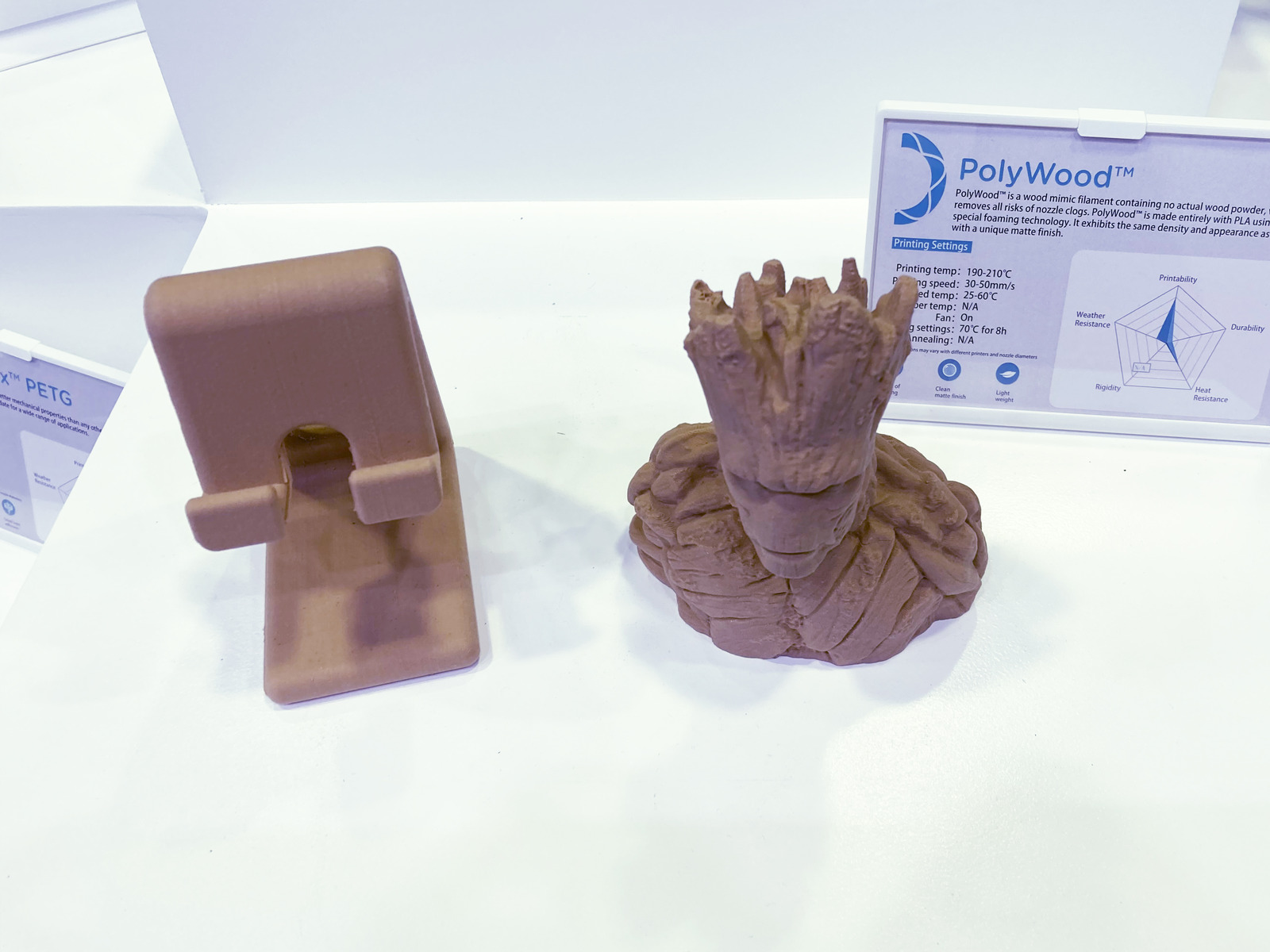 Figure (2). Groot and a phone stand printed with PolyWood™
Polymaker also displayed a few models that combined high technology with design. A colorful vase printed with PolyLite™ PLA drew attention of many visitors. The beautiful vase was printed with 7 different colored layers and these colors really embellished the modern geometric design of the vase and expressed our PolyLite ™ PLA's excellent printability and rigidity.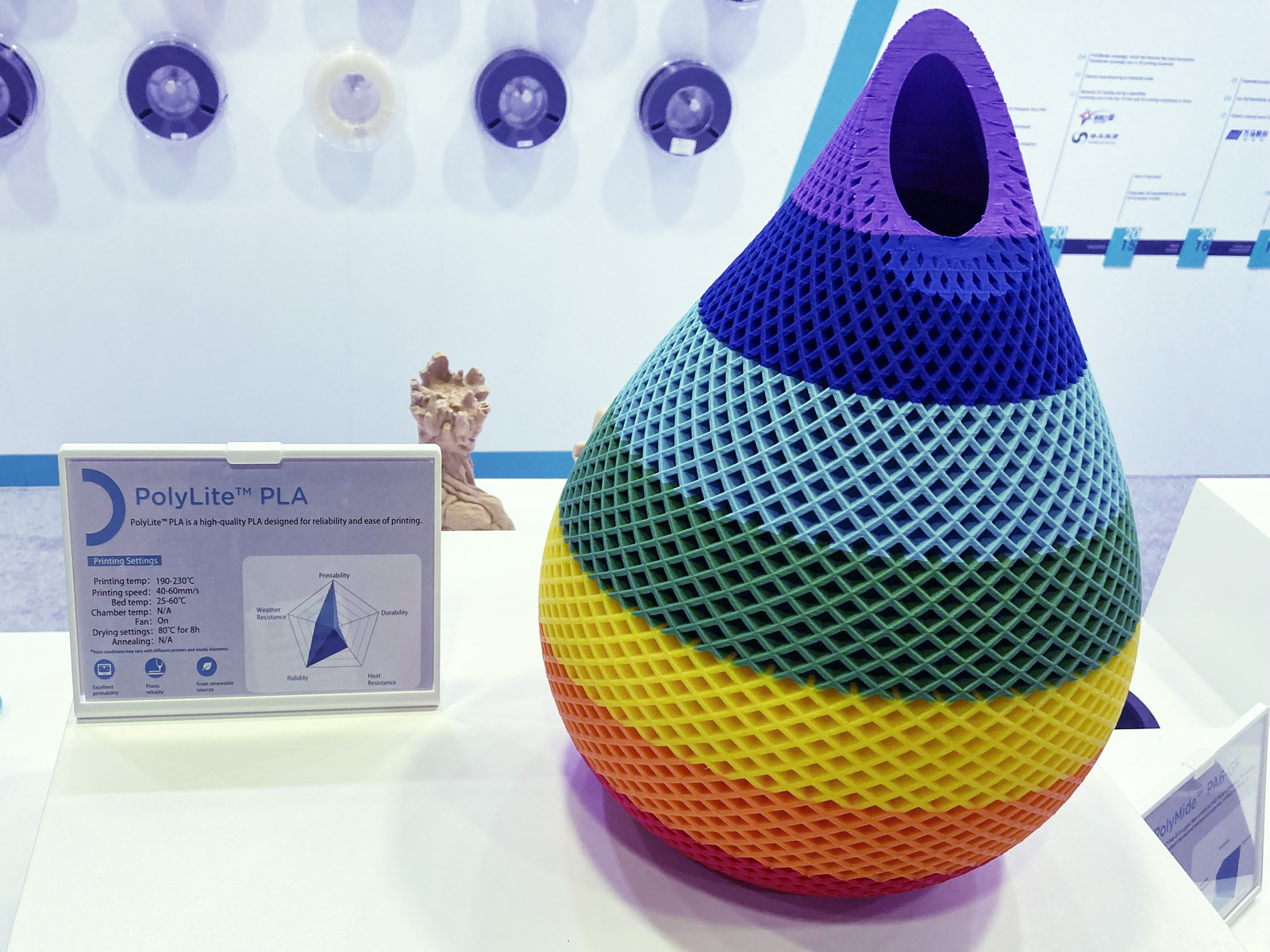 Figure (3). A colorful vase printed with PolyLite™ PLA
PolyTerra™ PLA was highly praised as usual, as it is more than a product, it is a new concept. Leaving a smaller carbon fiber footprint is investing in a sustainable future. PolyTerra ™ PLA itself is cost-effective and delivers easy support removal, matte finish, and recycled cardboard and spool. Besides, one tree is planted with every spool sold, thanks to our association with One Tree Planted. NatureWorks, one of our partners, also visited the booth and had a great conversation on the innovative approach of PolyTerra ™ with sustainable spool and packaging offering.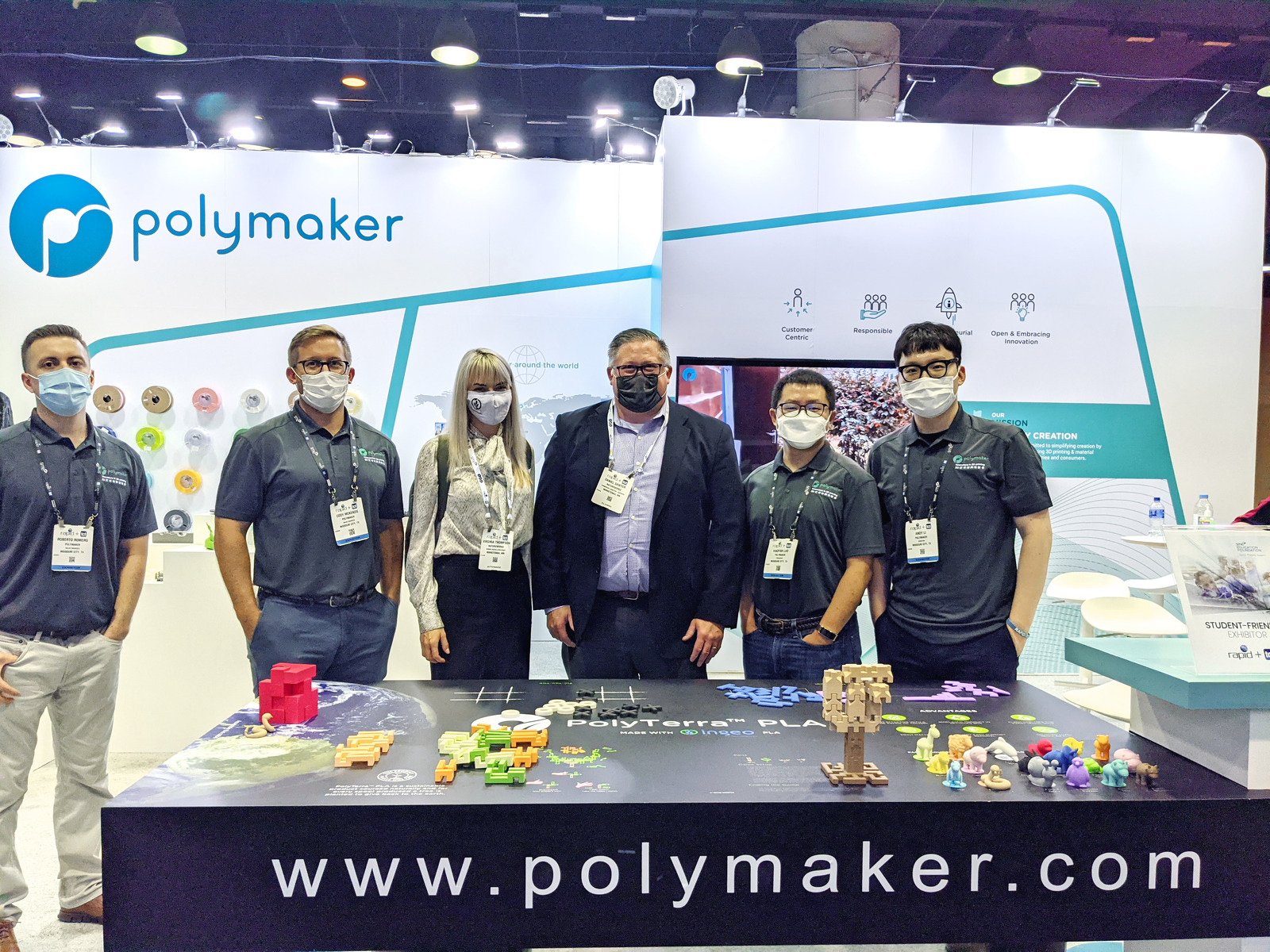 Figure (4). NatureWorks members and Polymaker members
PolyTerra ™ PLA was featured with a full set of interactive games at Rapid + TCT with a Tippi Tree, Tic Tac Toe, puzzles, and NT Toy creatures printed in our present colors. Visitors and especially students got to enjoy the 3D printed games and activities presented while presented a better understanding of our Eco-Friendly product line. Dan Sawyer from NatureWorks commented that PolyTerra™ has become a key driver for implementing 3D printing technology in the educational sector.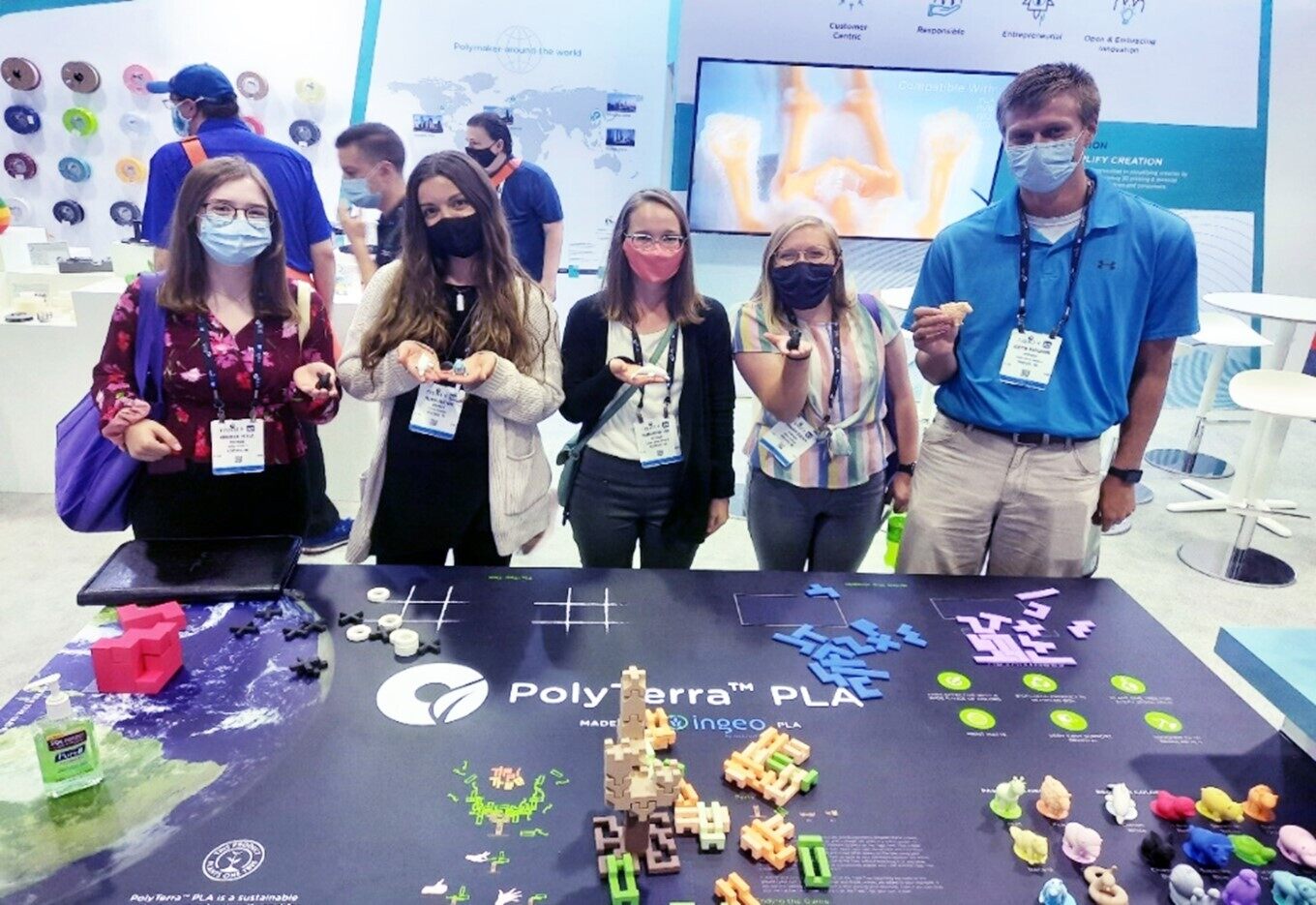 Figure (4). Students playing PolyTerra ™ PLA NT Toy creatures
Polymaker was also excited to highlight new PolyTerra ™ colors that have recently been released. These colors include a Marble White and Marble Slate Grey in our new Marble color line. Also, the release included Army Light Green, Army Dark Green, Army Blue, Army Red, Army Beige and Army Brown in our new Army color line.
Another great display was our castle printed with PolySmooth™ which became a sightseeing spot in Rapid + TCT. PolySmooth™ is the perfect filament to construct this print and with our Polysher™ which gave it that extra touch with Polymaker's Layer-Free™ technology. Many visitors stopped to take photos, enjoying the intricate design and detail. The castle displayed many levels with constructed rooms, hallways, and décor.
Polymaker also had some case studies with our partners during this exhibition. PolyLite™ PETG is a great filament choice used in the new TAZ sidekick printer made by Lulzbot. Polycast™ has been using to help streamline investment casting process of Wisconsin Precision Casting Corportation. Also, part of the case studies is a Moai Statue printed with PolyMax™ PC by Re:3D.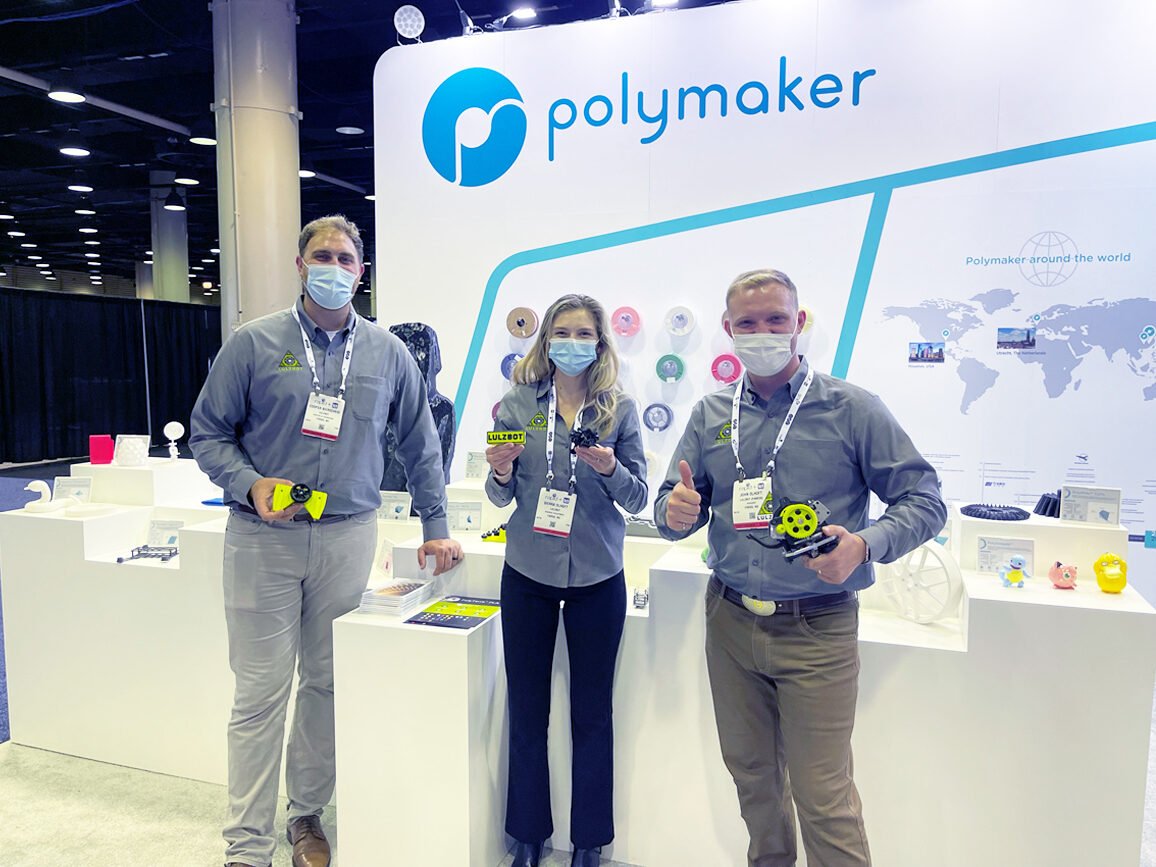 Figure (5). Lulzbot Staff with Prints at the Polymaker Booth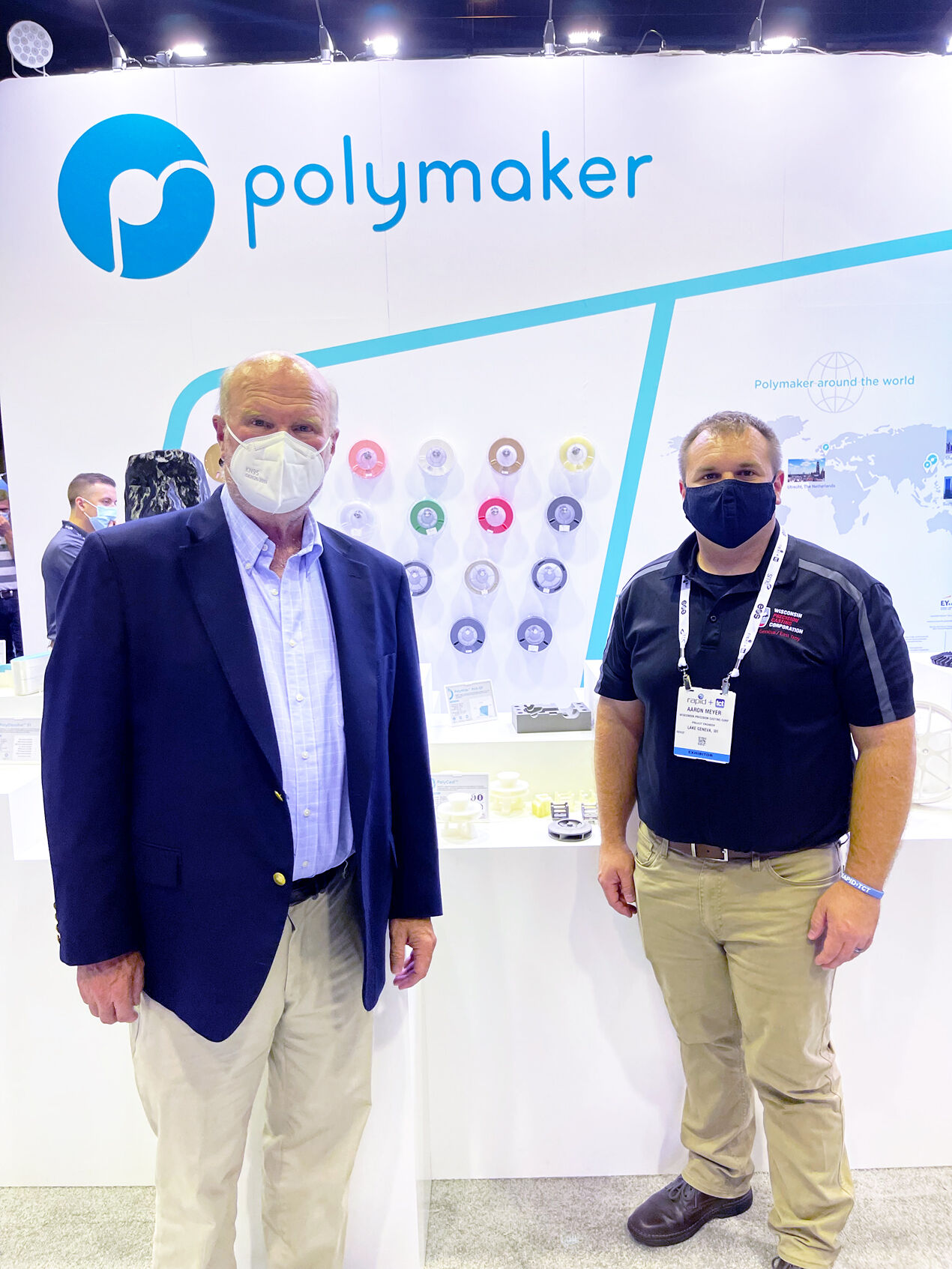 Figure (6). WPCC, Aaron Meyer showcasing WPCC parts casted using Polymaker's PolyCast™ filament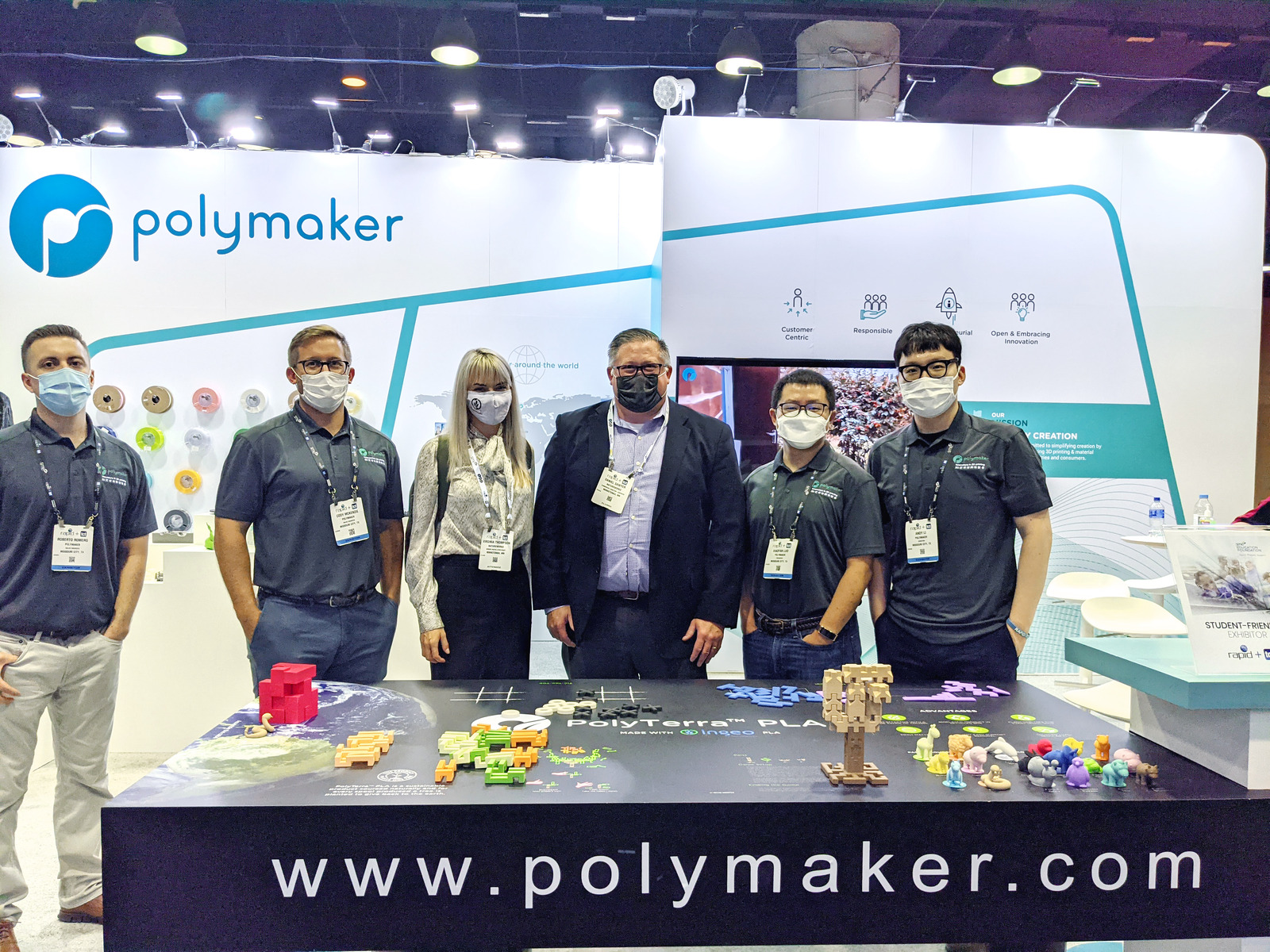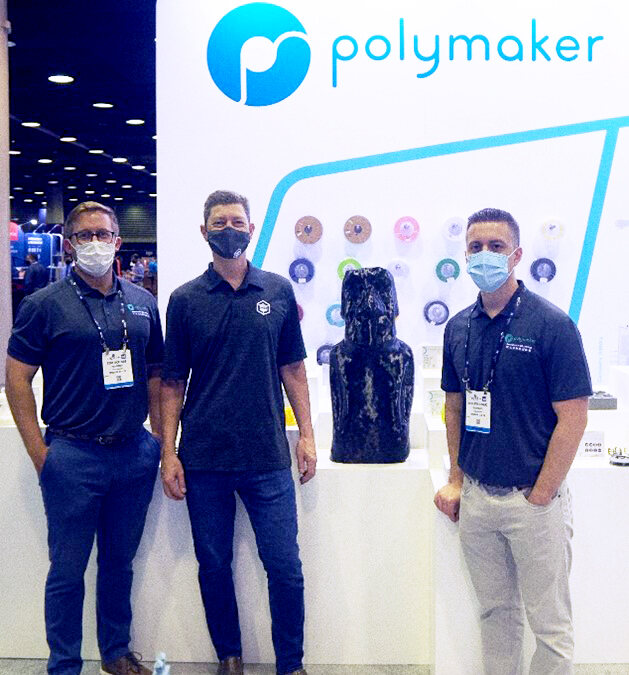 Figure (7). RE:3D, Matthew Fiedler showcasing Moai Statue printed with PolyMax™ PC.
In addition, Joel Telling with 3D Printing Nerd stopped by the Polymaker booth interested in our new Polyterra™ product. Chelsea Jacks (Polymaker member) provided key information about our new Eco-Friendly lineup, while playing tippy tree. Joel Telling and Chelsea Jacks were able to have fun while demonstrating the final print quality. The video can be found on 3D printing nerd's YouTube Channel and has received positive feedback from the 3D printing community.
Figure (9). Joel Telling with 3D Printing Nerd and Chelsea Jacks
We appreciate your attention to our following detailed articles of these case studies. Thanks for the support from all our partners and visitors.