Polymaker has partnered up with Thomas "The 3D Printing Guru" on TikTok to bring printing tips and tricks to a wider audience. Thomas Komar, a graduate of Bentley University is applying his passion for 3D printing in combination with his digital marketing and video production skills. The 3D Printing Guru has fast become one of the most popular creators on the platform promoting Thomas's belief that additive manufacturing is the future to sustainable manufacturing in short easily digestible videos.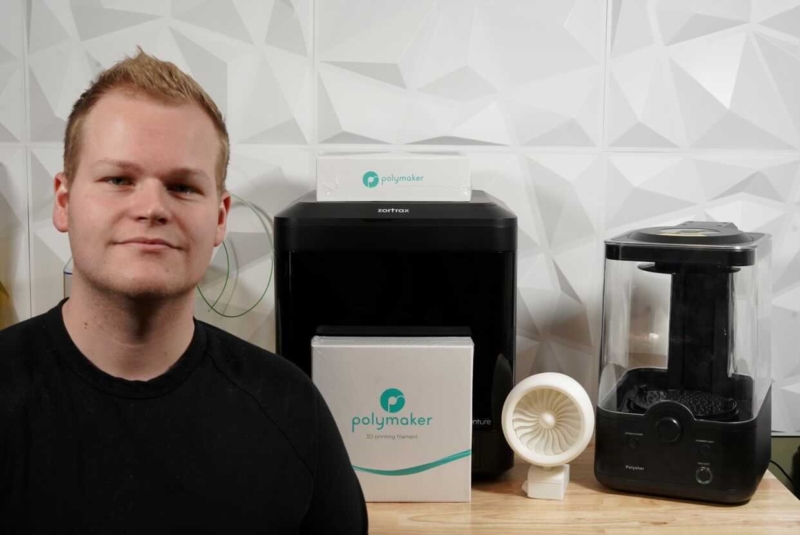 The short to-the-point nature of TikTok videos allows Thomas to quickly share his 3D printing techniques, ideas, and methodologies with his community. Thomas believes that the community built around his TikTok page is the most valuable benefit from his latest endeavour, hoping to inspire more young makers to start printing and join the AM revolution. Thomas personally joined the additive manufacturing community in 2014 and since then has been printing every day honing his skill set. Now with a large following on the social media platform Thomas hopes to leverage his position and share his passion for 3D printing with a wider audience.
"additive manufacturing is the way of the future and its ability to be sustainable and operate on a reduced waste framework thanks to the industry's only use what you need methodology is the driving factor." – Thomas Komar – The3DPrintingGuru
The 3D Printing Guru is currently running a Christmas Special focusing on the Polysher™ and PolySmooth™ removing the layer lines from Christmas decorations and giving present ideas to his viewers. The ability to completely smooth 3D prints and create a glossy surface is creating a lot of buzz on the social media platform and Thomas is full of new ideas of how to apply Layer-Free™ technology.
Polymaker is constantly looking to support content creators in the community who share our passion for 3D printing and also our vision that 3D printing will shape the future of sustainable demand-driven manufacturing. Keep an eye out on The 3D Printing Guru's page for more Polymaker content.