The 3-day TCT Asia Exhibition took place from September 12th to September 14th at the Shanghai National Exhibition and Convention Center. The exhibition was a huge success over the course of three days, with a total attendance of nearly 20,000 enthusiastic visitors.
As one of the key brands in TCT, Polymaker lived up to expectations by showcasing a series of remarkable new products and 3D printing application solutions. Now, let's take a look at Polymaker's booth.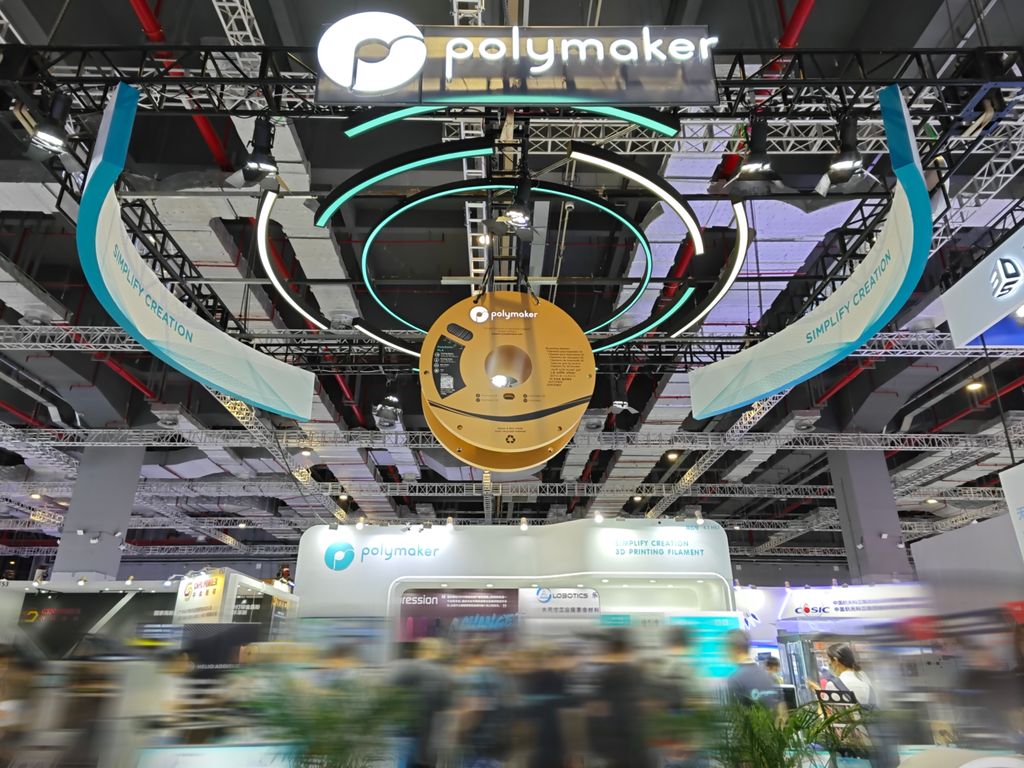 Part 1. The Future of High-Speed Printing - PolySonic™ Family
At this exhibition, Polymaker unveiled its highly anticipated PolySonic™ High-Speed Printing PLA series. Thanks to its advanced formulation, PolySonic™ satisfies three crucial factors: high volumetric flow, excellent printability and outstanding mechanical properties. Whether you're a hobbyist, engineer, or designer, PolySonic™ can let you experience faster extrusion rates without compromising print quality or mechanical properties.
Mr. Chengyu Zhang, Polymaker Product Manager had a high-speed filament family - PolySonic™ family launch speech on September 13th. It provided a detailed introduction to the definition of high-speed printing and the product features of PolySonic™ PLA and PLA Pro. These 2 high-speed PLA products not only accelerates printing efficiency but also retains its inherent mechanical performance. It is suitable for a wide range of applications, including functional prototyping, artistic creations, and production of end-use products.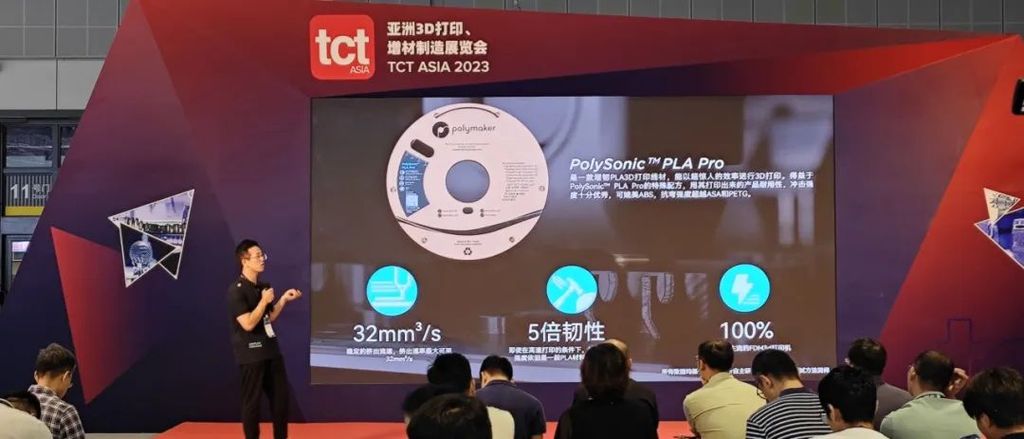 Part 2. Diverse Aesthetic Filaments
As a developer and manufacturer of 3D printing materials, Polymaker showcased a variety of PLA, TPU, PETG, and PA filaments and printed products with different colors and materials at TCT. From the retro and elegant Muted colors to the light and soft candy colors, from the realistic marble-like gloss and texture of marble colors to the gorgeous and elegant silk colors with silk-like smoothness and brightness, Polymaker provided endless possibilities for creativity.
Part 3. Multiple Application Showcase
In addition to products, Polymaker also showcased 3D printing solutions in various fields to the audience.
On the booth, three car models caught the eye, showcasing Polymaker's applications in the automotive field. These car models were printed with PolyLite™ ASA and PolyMax™ PC, demonstrating the entire process from initial prints to color finishing products, providing a visual representation of the possibilities and process involved in using 3D printing in the automotive modeling field.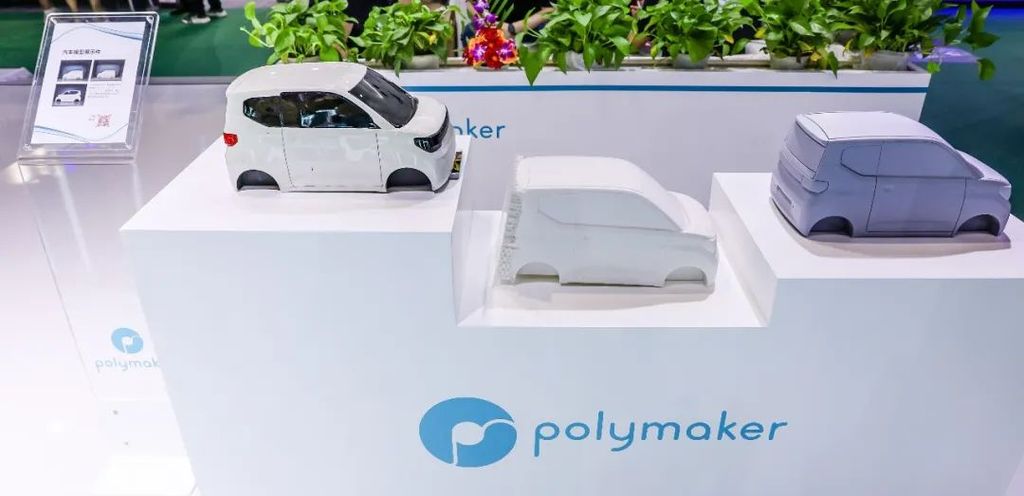 On the other side of the booth, various functional components manufactured using 3D printing technology were displayed to showcase the company's applications in the agricultural sector. These components included drone casings, magnet-fixed bases, and guide rails, all printed with PolyMide™ PA612-CF. This material has lower moisture sensitivity compared to PA6/66 and PA6-based materials, and better mechanical properties than PA12-based materials. Prints demonstrate high dimensional stability, effectively prolonging the lifespan. The application achieves efficient production, cost reduction, and enhances versatility in terms of shape, design, weight reduction, and development.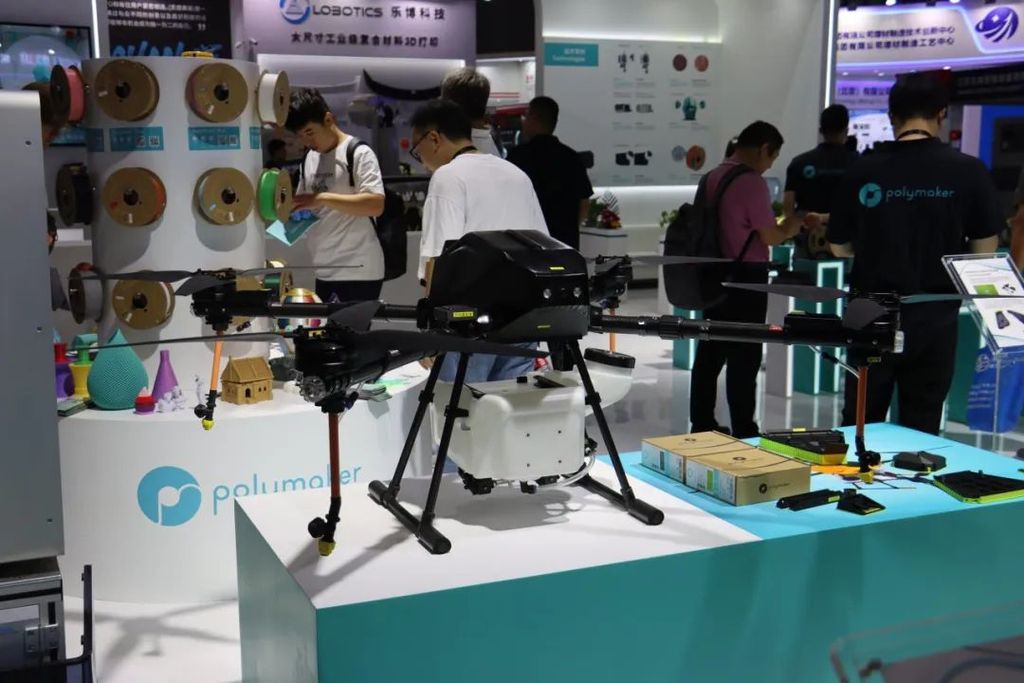 Beyond the agricultural field, 3D printing can also bring personalization to the powerboat manufacturing industry. Polymaker, together with Amesos, provided a solution for a well-known powerboat manufacturer in the United States. After several process tests, PolyLite™ PETG was successfully chosen as the material. Its excellent comprehensive mechanical performance, dimensional stability, Warp-Free™ technology, outstanding strength, water resistance, chemical corrosion resistance, and cost-effectiveness make it an ideal material for printing powerboat covers.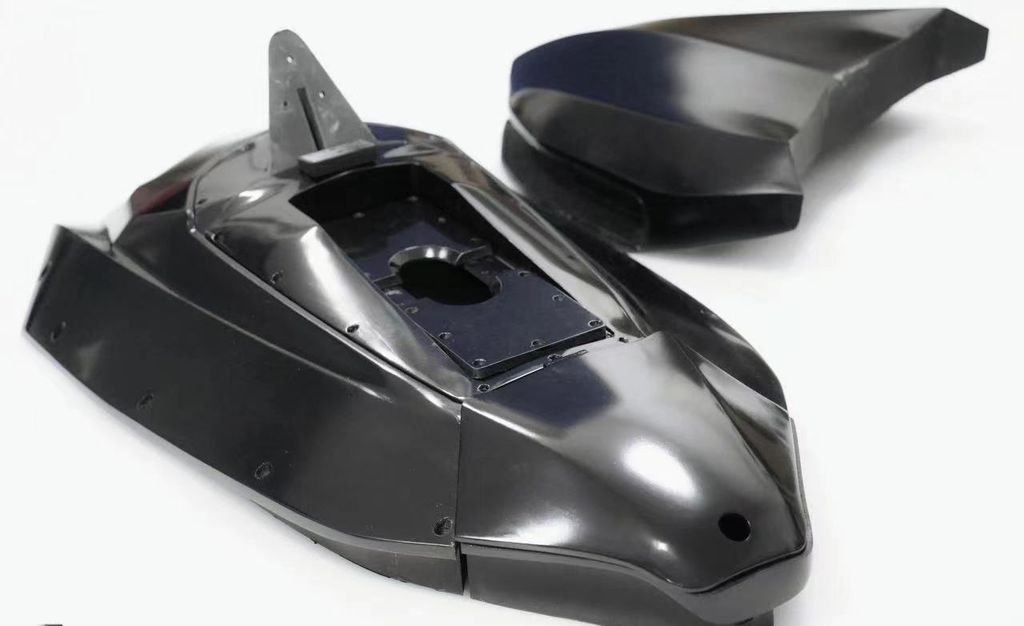 In addition to receiving praise from industry professionals, this industry exhibition also attracted the attention of common people, showcasing the infinite potential and charm of 3D printing technology.
Polymaker will continue to lead the industry's development trends, deeply cultivate the field of 3D printing consumables, and make 'Simplify Creation' a reality.