Location / Team / Booth Set-up
RAPID 2023 was held in Chicago, Illinois, known as the Windy City and famously known for its architecture, vibrant music scene, and amazing food, — including deep-dish pizza! RAPID, North America's largest and most influential Additive Manufacturing, was a three-day event, from May 2nd to May 4th. RAPID showcased 400 exhibiting companies to attendees from 34 countries and 48 states.
Polymaker's team at RAPID 2023 included the Americas team and members of the Europe team to welcome and interact with visitors. Our booth set-up consisted of different sections displaying our selection of materials. A section for our consumer level materials, engineering materials, along with a section for our PolyCore pellets. In the sections, we displayed our partners/collaborators parts printed with our filaments. Printed parts include products or creations of our innovative end users. A ring toss game was prepared for visitors to play and win prizes! Polymaker's booth also displayed a giant spool that caught the attention of many visitors. The back of the giant PLA Pro spool was used as a scoreboard for the Ring Toss game. Overall, Polymaker's booth was the most fun and interactive floor at RAPID.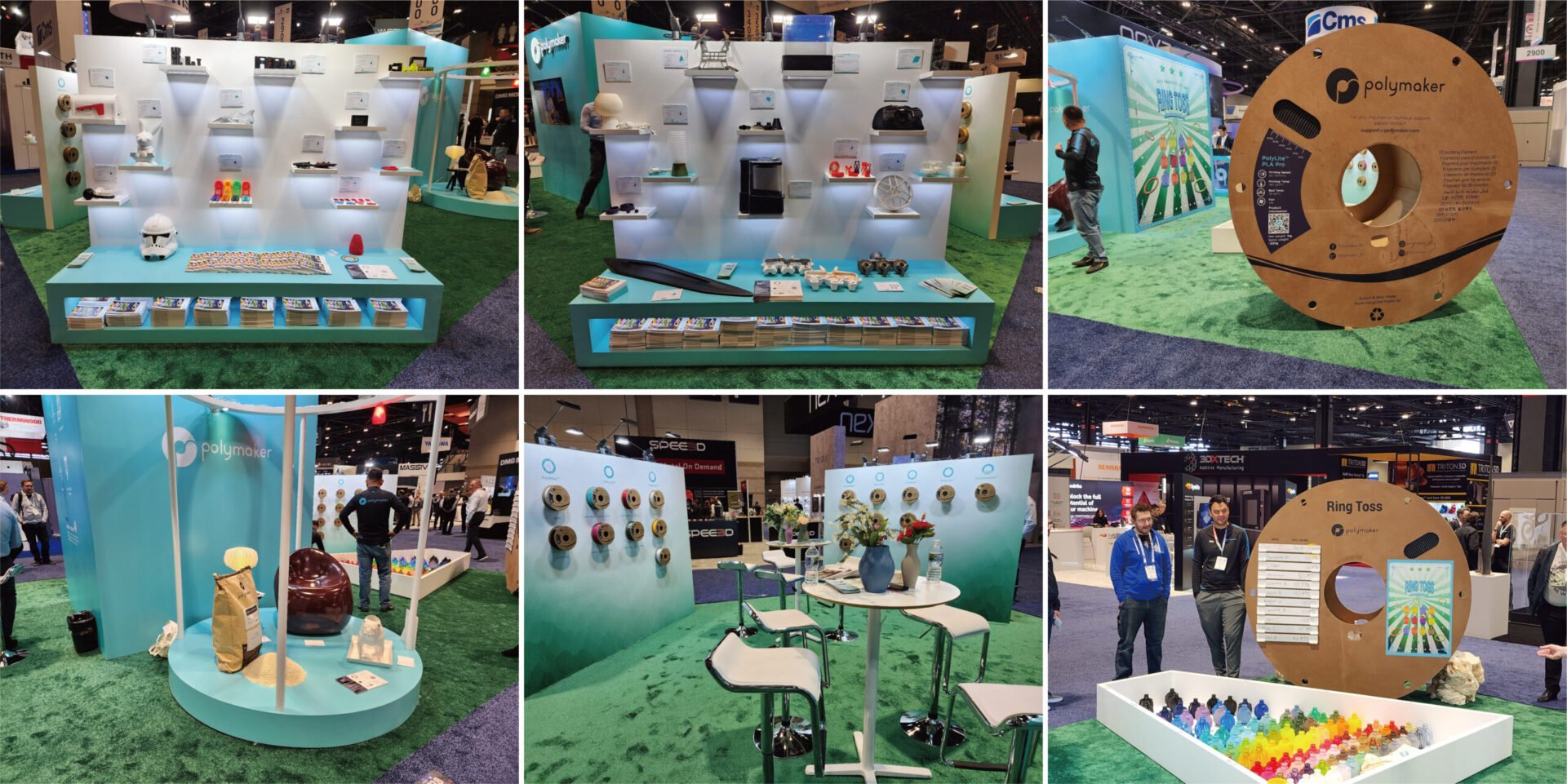 Business Opportunities / Leads
RAPID 2023 is not only a great opportunity to have customer engagement, but to discuss business opportunities with visitors. The Polymaker's Americas team received a good amount of leads from RAPID, some of which have already placed multiple orders (end users/resellers). A few of our existing end users and resellers stopped by the booth and were able to reengage with the team and have conversations about the current market and about our exciting and upcoming filaments. RAPID was also a great opportunity to sense the current market and capture any trends. Polymaker took advantage of the event to present our brand and our filaments in a fun and creative way that captured the attention of many attendees.
New Products
During RAPID 2023, Polymaker debuted several new products such as PolyTerra PLA Pastel Rainbow, PolyTerra PLA Dual Colors, and PolyLite PLA Starlight. As guests walked by our PLA display, their eyes were drawn to the iridescent sheen of PolyLite PLA Starlight. They would stop to pick up the pirate figures and admire how Starlight changes colors with different viewing angles. You could already tell they were formulating how to incorporate PolyLite PLA Starlight into their next product.
PolyTerra PLA Pastel Rainbow was another star of the show. Guests admired the matte finish and quick changing color cycle of the Pastel Rainbow filament at the PolyScientist display.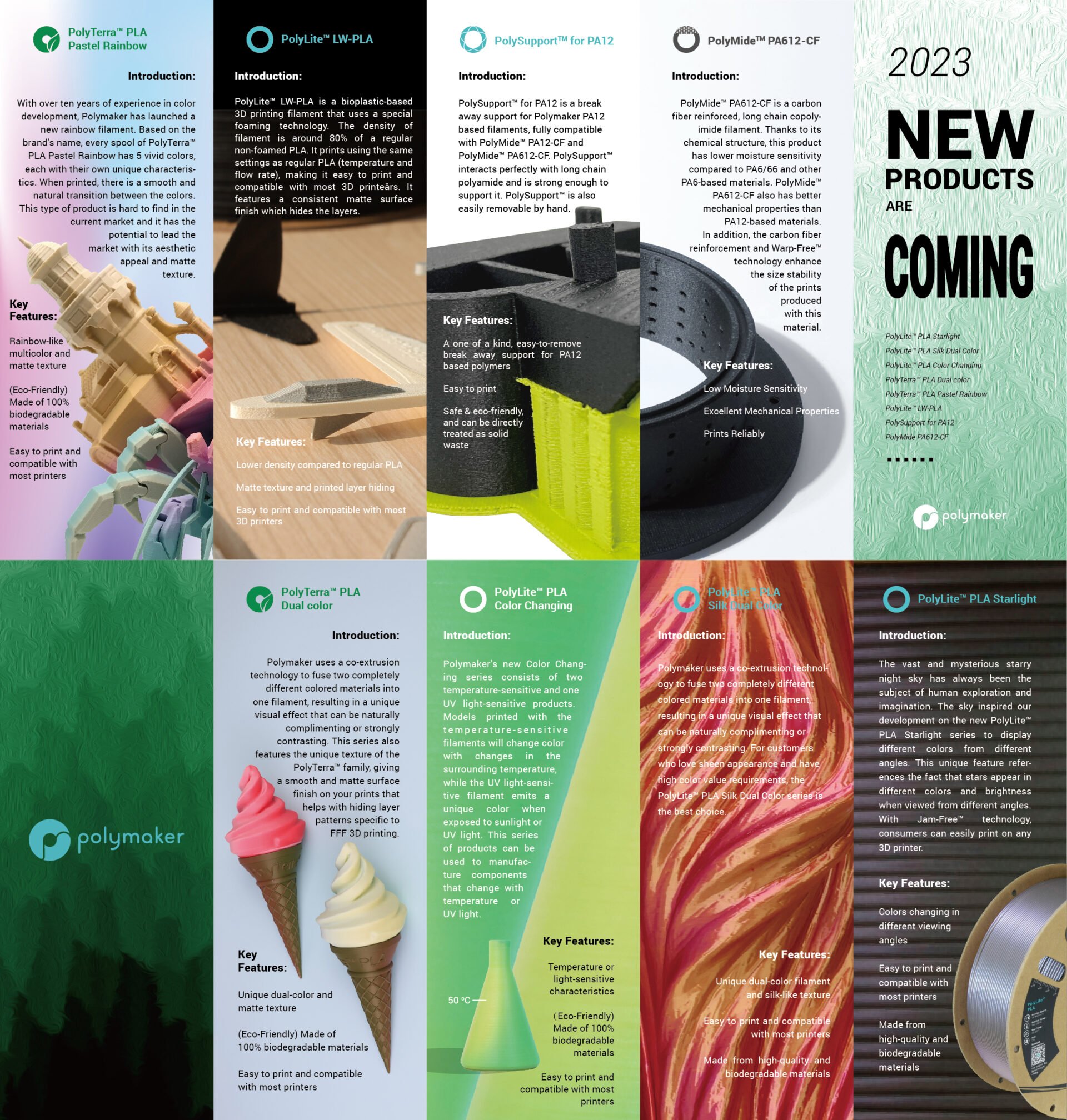 Ring Toss
Polymaker had the most colorful and interactive booth at RAPID 2023 thanks to our Ring Toss game. The Ring Toss game consisted of three sections of vases printed in our PolyLite and PolyTerra PLA lineup. Each guest had ten chances to land three hits on the vases with our 3D printed PolyFlex TPU95 rings. One hit landed you a keychain, two hits got you a bag, and three hits was a Polymaker iPhone case. For the competitive types, each section of vases was also broken down into points. The closest section was 1 point, the middle section was 5 points, and the farthest section was 10 points. The top ten players won a voucher for 5 free spools of filament. The top scorer of RAPID won a voucher for a 3D printer of their choosing, up to $1,000! Overall, the Ring Toss game kept customer interaction at an all time high, with repeat customers visiting our booth multiple times during the course of RAPID 2023.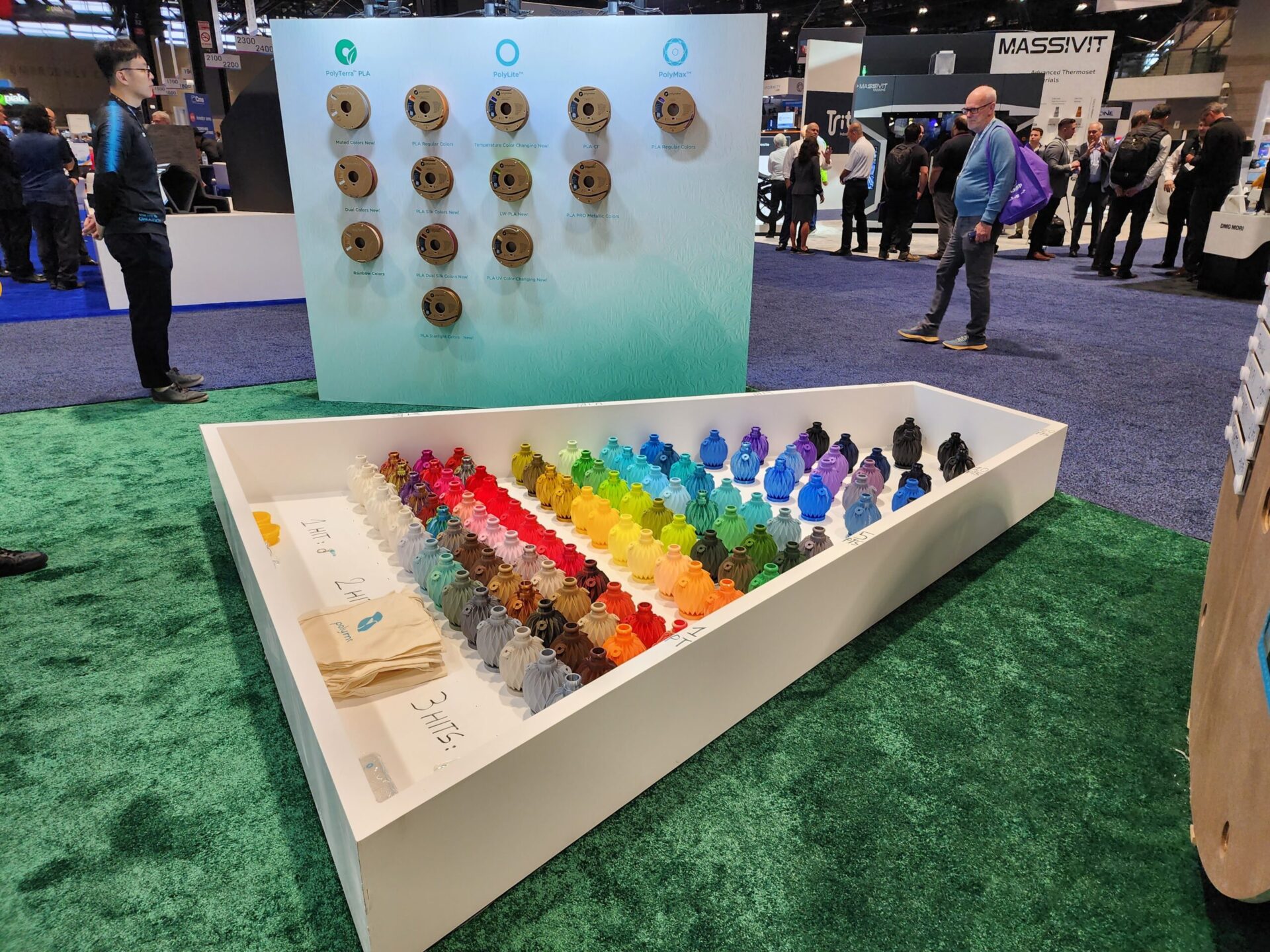 Conclusion
Polymaker's mission is to simplify creation by empowering 3D printing and material technologies for industries and consumers. Polymaker keeps to their mission by providing the industry with unique and reliable filament options. Polymaker continues to stay on top of an industry where only the best of the best can survive.
Looking back on RAPID 2023, the Polymaker team had a great time interacting with each other and the customers. They look forward to gathering again at RAPID 2024.