The Indiana School for the Blind and Visually Impaired (ISBVI) have embraced 3D printing to a degree exceeding all other bodies of education with 3D printed models entering the curriculum in every subject taught on campus. Three years ago, ISBVI started a 3D printing Fab Lab at the school, managed by former student Jacob Ayers.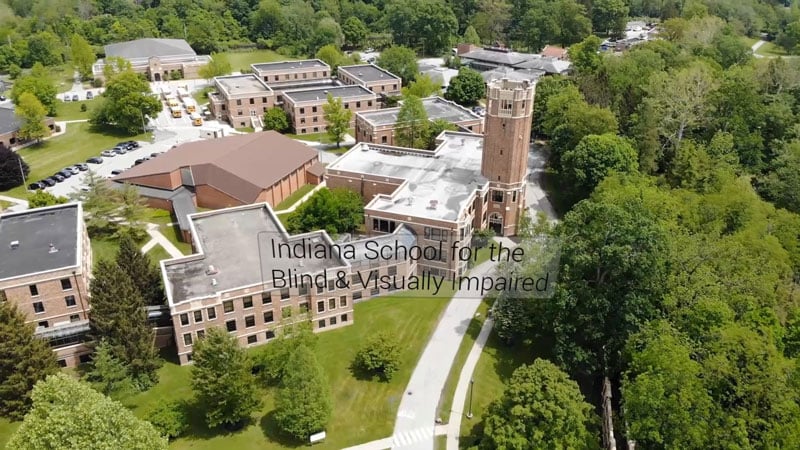 Dr. Matthew Maurer Ph.D. a professor at ISBVI instantly saw the value of 3D printing and helped Jacob to grow the 3D printing lab into a full-scale operation. With recent boosts in funding and donations, the ISBVI Fab Lab has grown from a janitor's cupboard with Jacob operating his personal kit-built RepRap to a fully functioning print farm with over 200 3D printers in operation.
Jacob reached out to Polymaker seeking a donation of PolySmooth™ to help provide 3D printed models to the students at ISBVI. Polymaker we happy to donate five hundred pounds of PolySmooth™ 3D printing filament and 5 Polyshers to help post-process the models.
"We've been using PolySmooth almost exclusively for the past 2 years of the 3 years we've been running. We use the plastic because its: easy to print, it's easy to post-process, it sands well, it files well compared to other plastics and its smoothable with the Polysher" – Jacob Ayers, Fab Lab Manager, ISBVI.
"When we started this project, the main aim was making models for the classroom, which is important because a lot of blind children see objects only in two dimensions, usually through raised lined drawings. When you put a 3D printed model in their hands, there is a eureka moment when everything falls into place and the subject makes sense for the students." – Dr. Matthew Maurer, Ph.D. ISBVI
The ISBVI Fab Lab is now encouraging students to join workshops and learn about additive manufacturing as part of design & technology as well as in extracurricular activities. This allows students to gain knowledge of 3D printer operation, CAD software, and post-processing of materials.
"We see some game-changing employment possibilities and workforce development, we are very excited about the possibilities of training students in the additive manufacturing world. Students can learn from the materials and equipment that we have and then drive that knowledge into a career." – Dr. Matthew Maurer, Ph.D. ISBVI
One project that the seniors are working on is a 3D printed face model of all the class members that are graduating this semester. In this project, the students are learning 3D scanning and file preparation, 3D printing and post-processing. The end result is a 3D printed object they can feel and touch to gain a deeper understanding of their classmate's appearance while also learning new skills.
"We can make the ultimate tactile friendly surface for someone who is blind or visually impaired. When we are creating a tactile object for classroom use, where the information being presented is vital. We don't want to misconstrued print imperfections for detail. With the Polysher and PolySmooth, we can eliminate all of that with minimal work." – Jacob Ayers, Fab Lab Manager ISBVI
ISBVI has also partnered with the Benjamin Harrison Presidential Site in Indianapolis, who are working on digitizing their collection of over 10,000 artifacts detailing the life and times of the 23rd President. Charles Hyde, President, and CEO of the Benjamin Harrison Presidential Site explains how digitizing museum artifacts can help educators access and utilize the collection in a compelling and engaging way. The ISBVI Fab Lab is helping print and process the artifacts to create a touch box of five selected artifacts from the Benjamin Harrison collection to give to the students at ISBVI.
"We are literally taking the collection and putting it in the hands of their students. So, we can explain what these five objects are and how they share the wider story of an American presidency." – Charles Hyde – President & CEO Benjamin Harrison Presidential Site.
The students can then visit the home of Benjamin Harrison and experience the smells and sounds of the presidential home built-in 1874.
The Benjamin Harrison Presidential website have 3D scanned over 60 items, ranging from chairs to swords to top hats. All the OBJ files are free to download through their sketchfab collection.