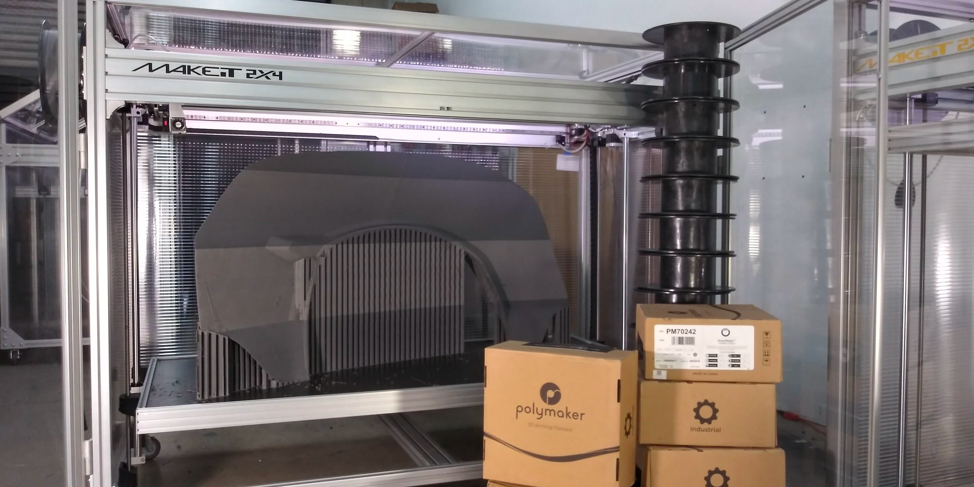 Full size fender plug (1346mm x 660mm) 3D printed on MAKEiT2x4 Large Format 3D printer using PolyMide™ PA6-GF material made by Polymaker.
MAKEiT2x4 is a large format 3D printer able to print an entire quarter panel in one piece with industrial quality filament PolyMide™ PA6- GF from Polymaker. MAKEiT2x4 is designed and made by MAKEiT, Inc. in California.
The printer is equipped with a massive rectangular printing area of 1400x605x800mm and a powerful printhead, this makes it the premier choice for printing large automotive parts, like rectangular-shaped body models. In fact, it is recognized by the automotive aftermarket authority SEMA, the Specialty Equipment Market Association. The SEMA Show 2020 awarded our MAKEiT2x4 large format 3D printer the 2nd Best New Tool and Equipment Product.
With the printer MAKEiT 2x4 car designers and fabricators can print the original fender design, in full instead of different pieces welded together saving the time and energy spent to complete a puzzling process. It counts with an application where you can see the part being 3D printed in real time.
After days of continuous printing, when the model is finally printed and cleaned, you can test fit it right away onto the vehicle. The well tested piece can be used as a plug to make the production mold. Plus, by using the MAKEiT2x4 machine, you can keep all your original designs in house.

Due to the complex nature of making a perfectly smooth body plug, the material used to make the plug needs to be stiff and strong and able to withstand intense heat. After many trials of different kinds of filaments, we have narrowed it down to a couple filaments. Polymaker™ PA6-GF meets all the material requirements for 3D printing a good plug.
With the help of 3D scanning, computer-aided design, 3D printing and the right material, our clients are no longer sculpting clay plugs by hand. They especially love the 3D printing digital mirroring process. With a single click, a mirrored model can be printed automatically. In comparison, making opposite-side plugs perfectly symmetrical by hand is virtually impossible.
We'd like to share the following case study from one of with you from our amazing customers.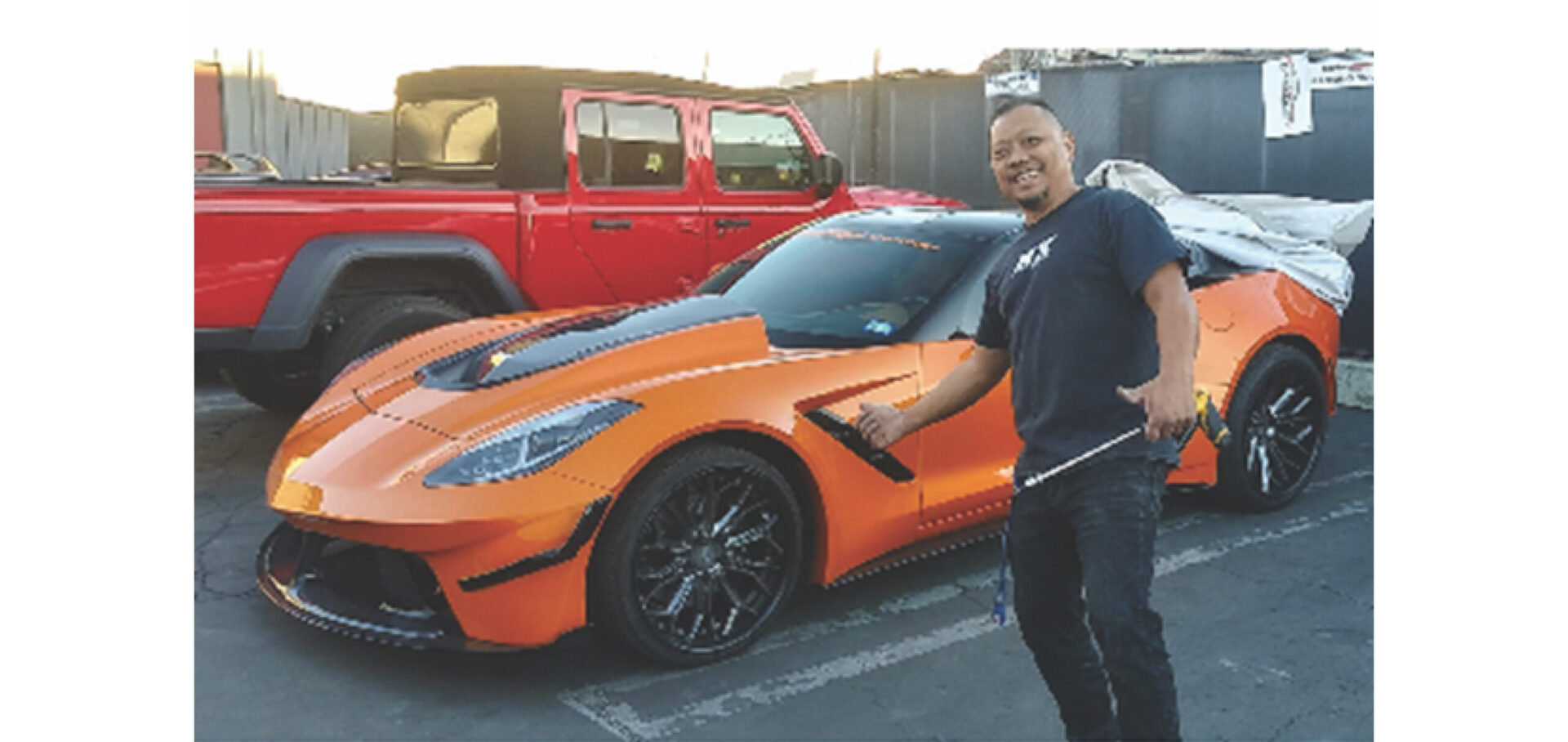 Ivan Tampi, owner of Ivan Tampi Customs, is an award-winning designer and fabricator specializing in widebody Corvette customization. He used to spend weeks making plugs by hand. With the help of MAKEiT2x4's large-format 3D printing technology, he is able to get 3D printed prototypes from the CAD design, without the need for additional tooling. He is now able to do more design work, build more exotic wide body kits faster, all at a lower cost.


A full-size passenger side rear fender cap is 3D printed on a heated carbon fiber print bed. This bed provides a massive 1400x605x800mm print envelope. The 0.6mm tungsten carbide nozzle on the powerful printer works wonders with the PA6-GF, producing 5 days of non-stop work, (except for the automatic pausing of the printer when the filament runs out). An innovative filament motion sensor detects filament exhaustion and other problems. Once a new roll of PA6-GF is installed, the printer will continue. By nature, PA6-GF is an abrasive and stiff filament. It needs a printing temperature in the range of 285C to 300C and an abrasion resistant nozzle to extrude well. Often, 3D printer bed leveling and calibration can be complicated and time consuming. But this is not the case with the MAKEiT2x4 printer. It has 100% automatic print bed leveling and calibration. The user only has to press a few buttons on the computer screen. The rest is done by the printer itself.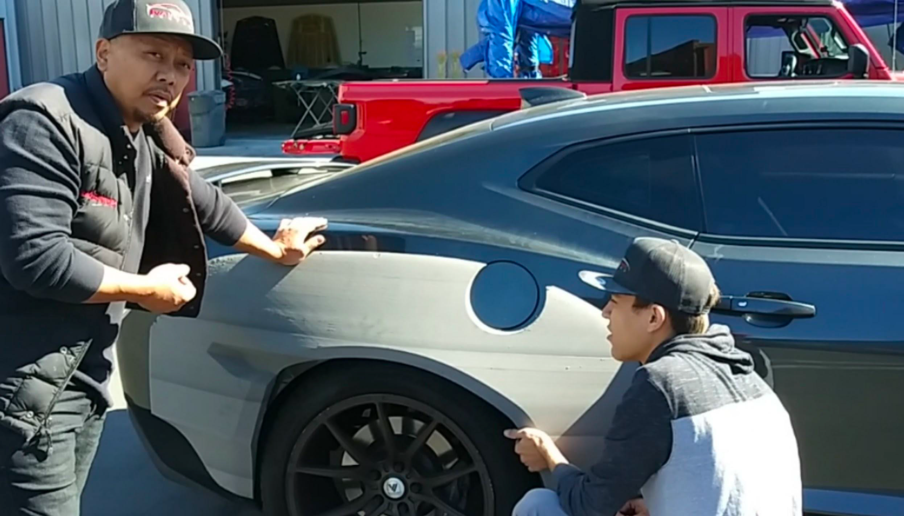 (3D Printed passenger side rear fender plug fitment test by Ivan Tampi Customs)
By using the digital mirroring process, the driver side rear fender is obtainable. This simple process creates a symmetrical model, and it can be 3D printed right away. The finished print is shown here.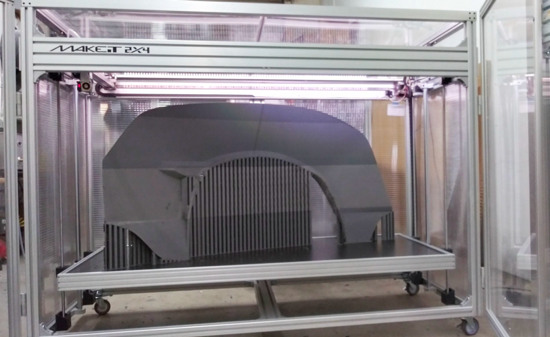 Once the printing starts, we want it to be finished as planned, right? No one wants to see an incomplete
job. However, a random layer shift during printing poses serious risk. It can ruin the entire print. Many 3D printer users have encountered similar issues. It is very costly when printing a large size part. To prevent the "lay-shift", we have implemented the LSP (Lay Shift Prevention) in each 2x4 printer as a standard feature, ensuring reliable printing, job after job. A video clip about LSP can be found here ( https://drive.google.com/file/d/1FW9CdxKvBCXWwAC22lJqaLcFv5UnEByM/view )
A driver-side front fender plug is completed after 7 days of printing. As noted, there is support material and debris attached to the fender print. These can be easily removed before the fitment test.

After an initial fitting, the fender plug will be power sanded to make it as smooth as possible. During sanding, the nylon glass fiber print remains stable, unlike PLA. It doesn't gum or melt at all! This is huge. The old headache of "how do I sand it" has become "I love it. I can sand it easily, as many times as I want." Often, regular post processing filler materials like Bondo are applied onto the plug before next sanding.
While the printer is running on its own, a MAKEiT2x4 user can monitor the printing process, and control the printer remotely using a smartphone. When you visit your customer, you can show their part being 3D printed in real time!
According to Ivan, MAKEiT 3D printing technology has saved his company 75% of time and labor compared with their traditional plug-making process. 3D printing also ensures every part is symmetrical and keeps the harmonious proportion all the way through. Compared with other filaments earlier, PolyMide™ PA6-GF has become Ivan's only go-to material. Nowadays Ivan Tampi Customs is able to turn their unique digital designs into real functional parts in days and weeks, and no extra tooling is involved.
Ivan's beautiful widebody exotic cars can be found at:
Instagram: @custom_car_builder; @ivantampicustoms
Website: www.ivantampicustoms.com
MAKEiT2x4 Large Format 3D Printer is designed and built in California USA by MAKEiT, Inc.
Website: www.makeit-3d.com
Instagram: @largeformat3dprinter
Email: [email protected] for purchase and resale opportunity