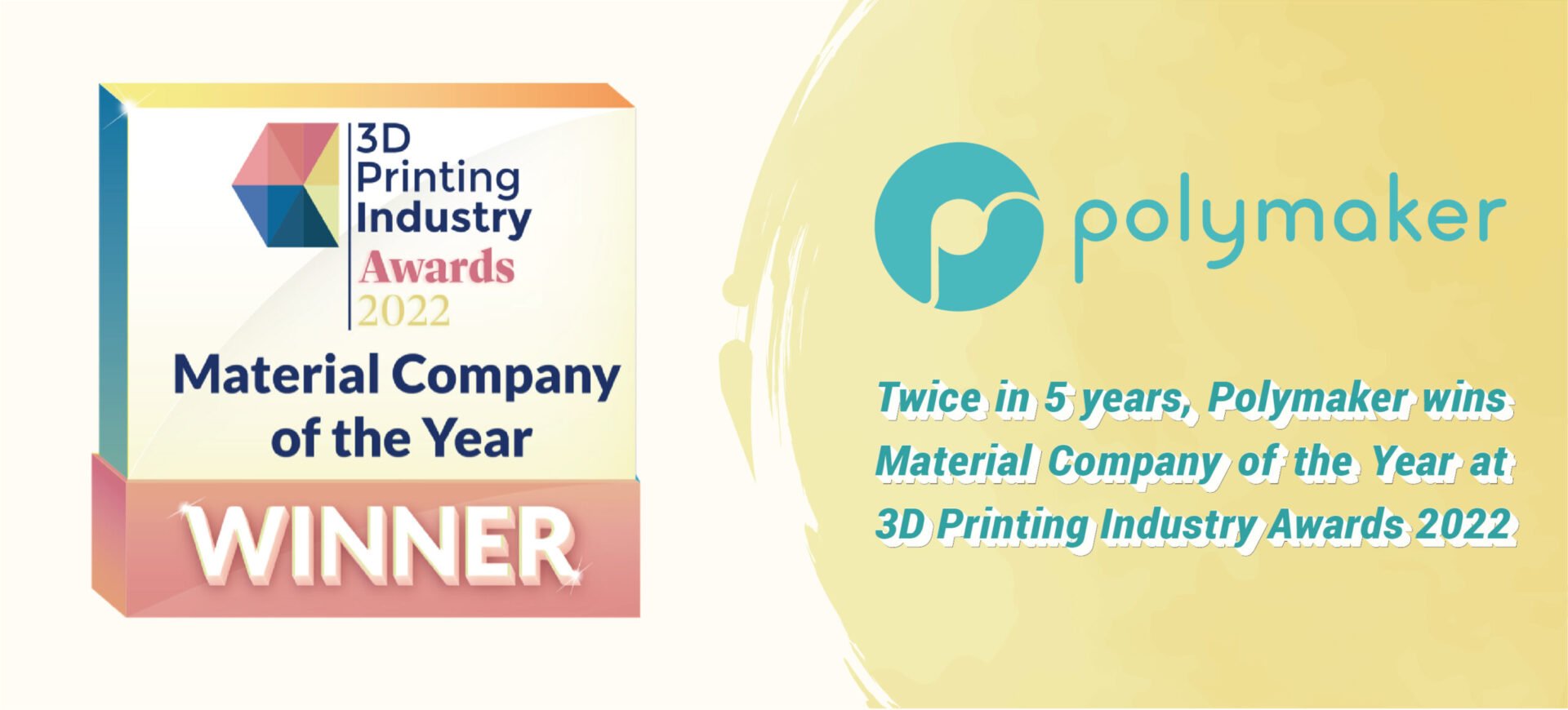 To round off another successful year, Polymaker was awarded the Material Company of the Year at the 3D Printing Industry Awards. This broad category is open to all additive manufacturing technologies: resin, metal powder, polymer powder, bio-printing as well as filaments. This marks the second time in five years that Polymaker has won the award, justifying that portfolio diversity and focus on research and development can drive 3D printing forward with Polymaker at the helm.
Heading into the new year, Polymaker will continue to take steps forward to enhance the experience for 3D printing users. Polymaker is already underway with the construction of a world-class R&D Center and Intelligent Factory, which will be equipped with a higher degree of automation and digitalization initiatives. This will enable more product launches of breakthrough materials with a higher standard of quality and repeatability. In 2023 Polymaker's product launches will target four sectors: Firstly, as high-speed printing has become an emerging solution to bring 3D printing production mainstream, Polymaker plans to develop a brand-new product family focused purely on high speed 3D printing. Furthermore, a brand-new family of composite materials with high performance is on the schedule to deliver engineering plastics to desktop users. In the world of color, Polymaker will expand its current range introducing new colors not only in PLA but also in other trending materials, with more focus on unique colors / filler combinations. Finally, Polymaker will actively reach more end-users and iterate existing materials according to their needs, to continually improve the product offering and user experience.
Since its establishment, Polymaker strived to develop and manufacture diverse 3D printing materials and has maintained its position as the pinnacle of the extrusion-based 3D printing materials industry. While investing in R&D, the company has also done some eco-friendly work by changing the spool and outer package of all its products from plastic to recyclable cardboard in 2022 and cooperating with ONE-TREE-PLANTED to offset the carbon emissions generated by the manufacturing process of materials by planting trees. To date, more than 340,000 trees have been planted in 15 different regions spanning 6 continents and this cooperation has offset 6,800,000 Kg of Co2 in under 2 years with the trees set to continually offset Co2 for decades to come.

When it comes to product innovation in 2022, Polymaker introduced a number of breakthrough materials such as PolyMax™ PETG-ESD which is a perfect choice for applications in electronics industry by offering electrostatic dissipation through carbon nanotubes paired with tough PETG, a nylon material named PolyMide™ PA612-CF with excellent mechanical and thermal properties as well as good size stability for industrial and engineering tooling, automotive, and end-use industry, and PolySupport™ for PA12, an easy-to-use breakaway support material for long chain nylons, which have filled a gap in the market. At present, Polymaker products, including 3D printing filaments, 3D printing pellets and related hardware, can effectively cover all three-major application needs of consumer, professional & industrial and production.

This award is recognition of Polymaker's continuous innovation and dedication to the 3D printing industry. Polymaker will stay focused on high-performance 3D printing materials and will keep delivering material solutions to help realize widespread end-use production of 3D printed parts. At the end of the day, it was Polymaker customers that participated in the 155,000 votes received by 3DPI. In a popularity contest against leading consumer brands such as: Prusament, Filamentum, and eSun, and in the race against chemical giants such as GE Additive and BASF, it was Polymaker who triumphed to claim Material Company of the Year.