Versatile materials for 3D printing
Polymaker, market leader in advanced 3D printing materials, announced the launch of three new polycarbonate-based 3D printing materials each with unique properties commonly used in the automotive industry. Polymaker has partnered with Covestro to bring these new materials to market taking formulas that are already well known to industry professionals and optimizing them for 3D printing.
The three new materials consist of:
Polymaker™ PC-ABS – a blend of already commonly used 3D printing materials, polycarbonate and ABS. The advantages of  this blend are high impact and heat resistantancy and easy to process. The polycarbonate boosts the heat resistance and toughness of the material while the ABS contributes to the good processing properties. This PC-ABS is also specialized for surface finishings, i.e. by electroplating and metallization, providing a good apporach for post processing.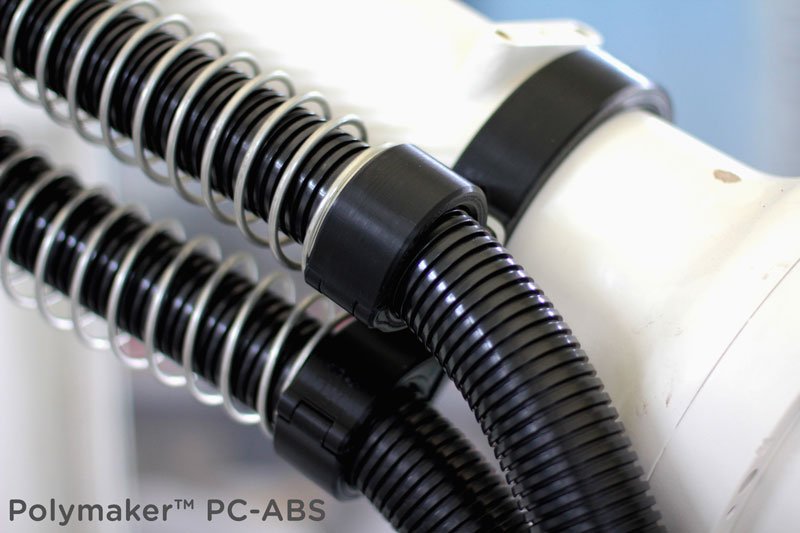 Polymaker™ PC-ABS uses Covestro's Bayblend® family as its base material which is a commonly used plastic in the automotive and information technology industry today.
Polymaker™ PC-PBT – This polymer blend combines the good chemical resistance of PBT with the strength and toughness of polycarbonate. Polymaker™ PC-PBT performs very well under extreme circumstances whether in contact with hydrocarbon-based chemicals or operating at subzero temperatures. Polymaker™ PC-PBT maintains good toughness and its natural ductile fracture behavior at low temperatures.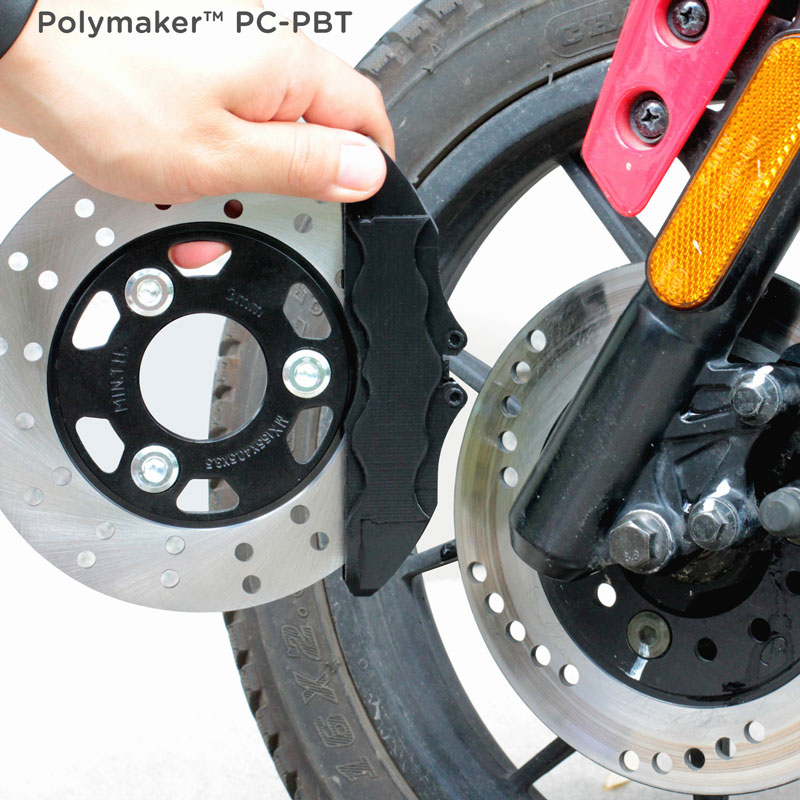 Polymaker™ PC-PBT is created from Covestro's Makroblend® family which is widely used in various industries. Compared to PC resins and PC-ABS compounds, PC-PBT has better resistance to chemicals, which enables printed applications where resistance to intermittent contact with fuels, oils, lubricants, cleaners is necessary.
PolyMax™ PC-FR – creation from Covestro's Makrolon® family, where the FR stands for flame retardant - the main feature of this polycarbonate-based compound. This base material achieves V0 performance in the UL94 flame retardancy test and benefits applications where respective material approval is required. This allows PolyMax™ PC-FR to be applied for battery housings, motor mounts in aerospace and other industries. Within the automotive and Electronics & Electrical industry, many professionals are well accustomed with such FR materials.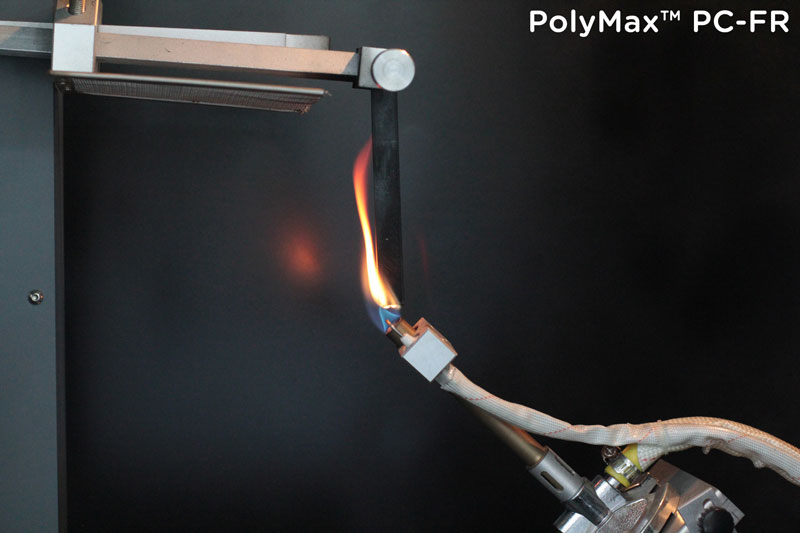 Polymaker has introduced its nano reinforcement technology that is featured in all PolyMax™ materials. This boosts the fracture toughness of the FR material and produces a flame-retardant filament that can still perform in demanding applications. PolyMax™ PC-FR uses Covestro's Makrolon® showing a good balance between mechanical performance and safety, which has already been applied in electronic motorbikes, aerospace spare parts, and automotive production.