Complete your carnival with your own 3d printing ideas! Be the lucky winner of your most desired spools! Our giveaway starts right now!
Here we invite you to join us in this year's festival! During this spooky season, unleash your creativity in 3d printing to print your own Halloween decorations! Whether you are a great fan of gothic movies or a normal guy with lots of inspiring ideas in your mind, now is the time for you to transform your ideas into reality! Let's give it a try!
The setting rules are as follows:  
The entire festival time range: from this moment to 31st October 2021 11:59 pm
Festival themes: Print anything related to Halloween, whether you choose to print a pumpkin, a creepy figurine, your fantasy costume decorations, masks, home decorations, anything that popped out of your mind will be served as your printing ideas!
Giveaway rules: Please print anything you want with our spools and share with us your print images, videos, interesting stories, or memorable moment in your printing process. You may print one or more kinds of stuff in your spools but please keep in mind that each social media user will only be able to upload your print items once only! Please share our official post on Facebook, Twitter, Instagram and don't forget to @polymaker (@Polymaker.3D on Facebook, @Polymaker_3D on Twitter, @polymaker_3d on Instagram). Hashtag won't be counted!! We will select only one user to be the top winner and give him/ her a free chance to choose the most desired two spools and one of our trendiest products --- PolyLite™ PLA Glow in the dark blue.
Warm tips: We are looking forward to getting inspired by your original designs on Halloween so please don't take it casually and upload other users' works to us! (It won't be counted!) All content shall not be involved with violence, pornography, political conflict, religion, and gender discrimination issues. Foul languages are prohibited.
Selection rules and winner contact details: The top winner will be selected from print's innovativeness and aesthetic senses, usefulness. We will notify this winner via our official post on 10th November and @this lucky one. This winner shall provide us his/her email address in 3 days. If this user submits his/her information overdue, that will be considered as surrendering top prize automatically.
We wish you all the luck in this spooky season and we are looking forward to witnessing your creative prints from now!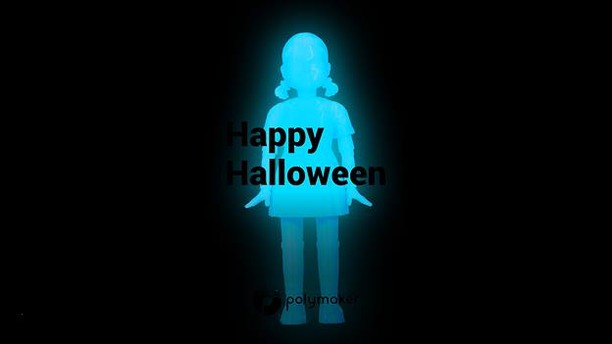 Best Regard
Polymaker