We are thrilled to announce the launch of our highly anticipated 2023 Polymaker Halloween Pack. This limited edition bundle is specifically designed to ignite the imagination of Halloween enthusiasts and creators, providing a unique color palette and special effects that will bring your spooky visions to life!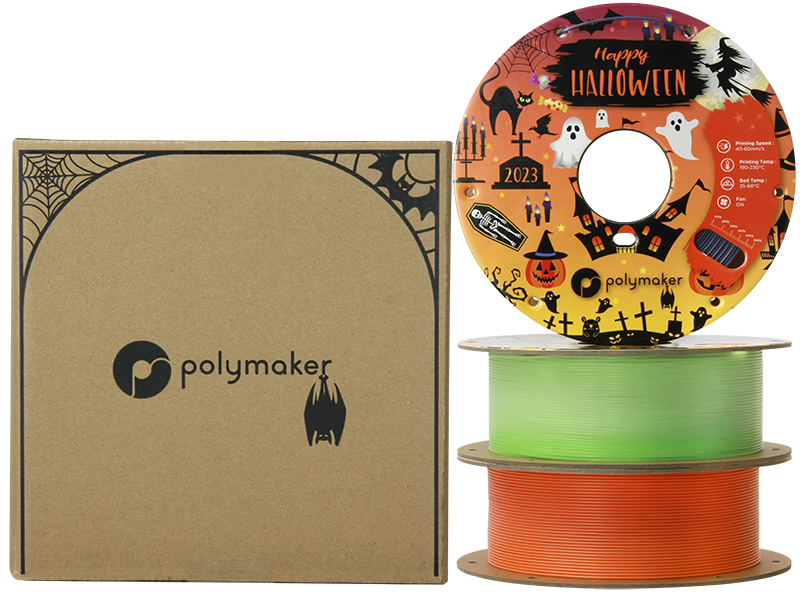 What makes our Halloween Limited Edition Bundle stand out? Let's dive into its incredible charming points:
Unique Color Palette: The Halloween Bundle offers a captivating blend of colors, including the mesmerizing Pumpkin Patch Orange and Ghastly Purple from our PolyTerra™ Gradient Color series. These colors seamlessly transition from one shade to another, adding depth and dimension to your Halloween-themed prints.
Gradient Color-Changing Effect: Each filament strand in the bundle boasts a remarkable gradient color-changing effect. Watch as your prints come to life with stunning visual transformations, creating an eye-catching spectacle that will leave everyone in awe.
Glow-in-the-Dark Green: To add an extra element of fun and surprise, we've included our Slime Glow Green filament from the PolyLite™ Gradient Color series. This glow-in-the-dark feature will bring an enchanting glow to your Halloween-inspired designs, making them truly unforgettable.
High-Quality Performance: Our PLA filament, used in the Halloween Pack, ensures smooth printing, excellent layer adhesion, and consistent results. We want to provide you with a hassle-free printing experience, whether you're a beginner or an experienced user.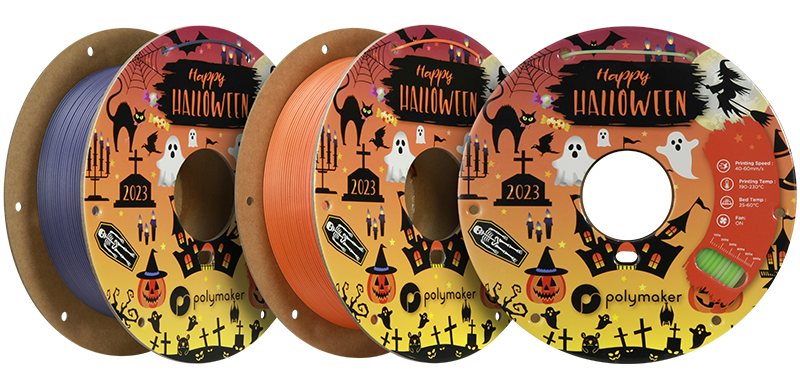 At Polymaker, we position our 2023 Halloween Pack as a must-have for those seeking to bring their spooky visions to life including Halloween enthusiasts, cosplayers, prop makers, hobbyists and collectors. The unique gradient color-changing effect and glow-in-the-dark feature will capture attention and create intrigue.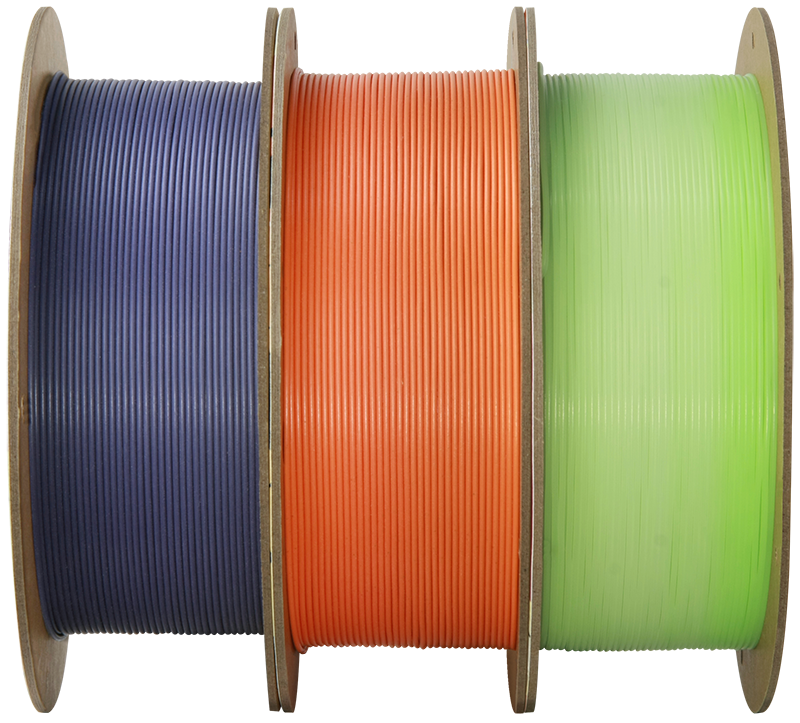 Limited availability adds exclusivity to our Halloween Pack, making it a coveted choice for Halloween-inspired prints. Don't miss out on the chance to elevate your Halloween creations with our captivating filaments and make this Halloween truly unforgettable!
Please click the below purchase links to get them~
US Web Store: Seasonal Packs (polymaker.com)
Amazon.com: Polymaker PLA Filament 1.75mm Limited Edition 2023 Halloween PLA Bundle, 3x1kg PLA 3D Printer Filament, Print Some Unique Halloween Decorations (Slime Glow Green, Patch Pumpkin Orange, Ghastly Purple) : Industrial & Scientific
Reseller: Find a Reseller - Polymaker
We've got a treat for you – a set of spooky STL models you can grab and use! Join in the Halloween fun! Don't be shy, feel free to get creative and share your spooky creations with us!
https://www.printables.com/model/589860-polymaker-halloween-pack-models-2023