Polymaker introduces two new flexible filaments to the PolyFlex™ family offering faster printing and more flexibility. With the surge of 3D printed personal protective equipment (PPE) last year, flexibles proved themselves as a vital tool in the additive repertoire. 3D printing as a production tool demonstrated its potential by manufacturing locally when existing supply chains were constrained.  Flexible filaments were a key player in this space and the 3D printed flexible face mask extender was invented to help medical stuff relieve strain on their ears. However, the printability and printing speed for flexibles remains limited, a factor which is determined by the melt index of the filament. Polymaker has developed these two new materials in partnership with Covestro to help boost the productivity of flexibles in the additive workflow.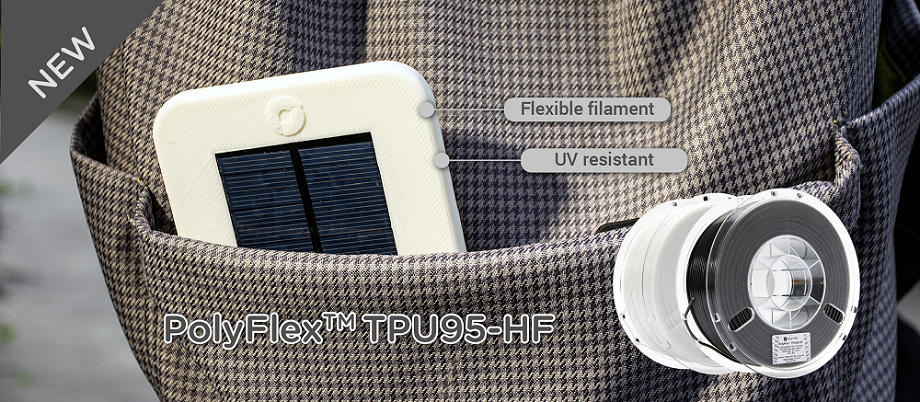 PolyFlex™ TPU95-HF, is a High Flow (HF) TPU created from Covestro's Addigy®️ family. The flow rate of flexible materials has always lagged far behind rigid materials which has been the limiting factor effecting the printing speed. TPU95-HF has a melt index of 9.3 (g/10min at 185°C) which is even higher than regular PLA. This allows for double the printing speed compared to other flexible filaments. TPU95-HF is designed specifically for high speed printing, combined with excellent UV resistance, PolyFlex™ TPU95-HF unlocks new applications for flexible materials in manufacturing.
The increased melt index allows the material to print faster. Contrarily to other TPUs on the market, TPU95-HF does not require a high temperature for high speed printing which results in better cooling, improved surface quality, steeper overhangs and finer details. PolyFlex™ TPU95-HF is available in black and white.
Ultraviolet (UV) light is a damaging factor for plastics and long exposure changes the properties of the material often leading to brittle, weak, and discolored parts. All plastics which operate outdoors are therefore at risk which is usually mitigated by post processing parts with a protective coating. The color difference of PolyFlex™ TPU95-HF is imperceptible after being exposed to fluorescent UV after 72 hours under ISO 4892-2 weathering test standard.
[fusion_youtube id="https://youtu.be/Ejj5FHuT7Ak" alignment="center" width="" height="" autoplay="false" api_params="" hide_on_mobile="small-visibility,medium-visibility,large-visibility" class="" css_id=""][/fusion_youtube]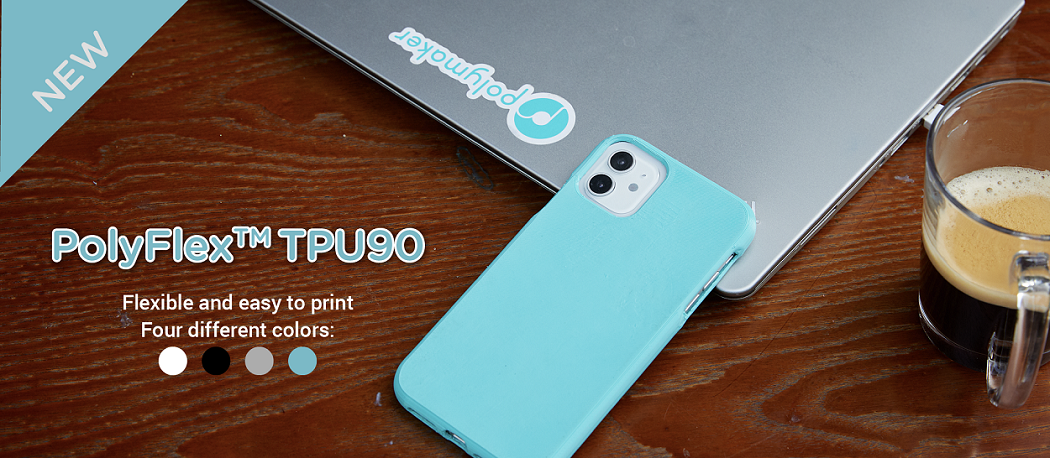 PolyFlex™ TPU90, created from Covestro's Addigy®️ family, is a thermoplastic polyurethane (TPU) based filament designed to provide a high degree of flexibility without compromising on printing ability. Displaying a high resistance to ultra-violet (UV) light, this filament is perfectly suited to demanding applications in a variety of environments.
The shore hardness of this new TPU is 90A and the elongation of break of it is 638.8%  ± 15.5. This delivers printed parts with incredible toughness that can stretch over 6 times before breaking. Displaying more ductility than PolyFlex™ TPU95 (shore hardness 95A) while maintaining the same printability thanks to an improved melt index. Its UV resistance opens the door to exterior applications where flexibility and durability are required. PolyFlex™ TPU90 is available in black, white, grey, and teal.
The 2 new TPU products are now available from Polymaker resellers, Polymaker website, and on Amazon (US).
Tips for using Polymaker TPU products:
Bed surface:
The PolyFlex™ family can be printed on glass, buildtak or similar products, PEI sheet or painters tape. Using Magigoo Pro Flex can improve the adhesion of PolyFlex™ TPU95-HF on the printing surface.
Direct and indirect drive extruders
Usually it is recommended to use direct drive printers to print TPU, however the high flow properties of PolyFlex™ TPU95-HF allows the material to achieve high printing speed even on indirect drive printer.
Dry box system
TPU is susceptible to absorbing moisture from the air which can subsequently affect the quality and mechanical properties of the final prints. We recommend using PolyBox™ to prevent moisture absorption. If the filament has absorbed moisture it can be dried at 70˚C for 12 hours in a convection oven.