In recent decades, the rising trend of the green economy has swirled through the global market.
Polymaker, as one of the leading 3D printing companies, has put its efforts into upgrading materials and sustainable development.
Polymaker is a developer and manufacturer of 3D printing materials committed to innovation, quality, and sustainability. Its award-winning product portfolio has enabled numerous individuals and companies to better create and make. Headquartered in Changshu, China, Polymaker has multiple office locations in Shanghai, Utrecht, and Houston ready to serve customers across the globe.
Global plastic waste status in the last three years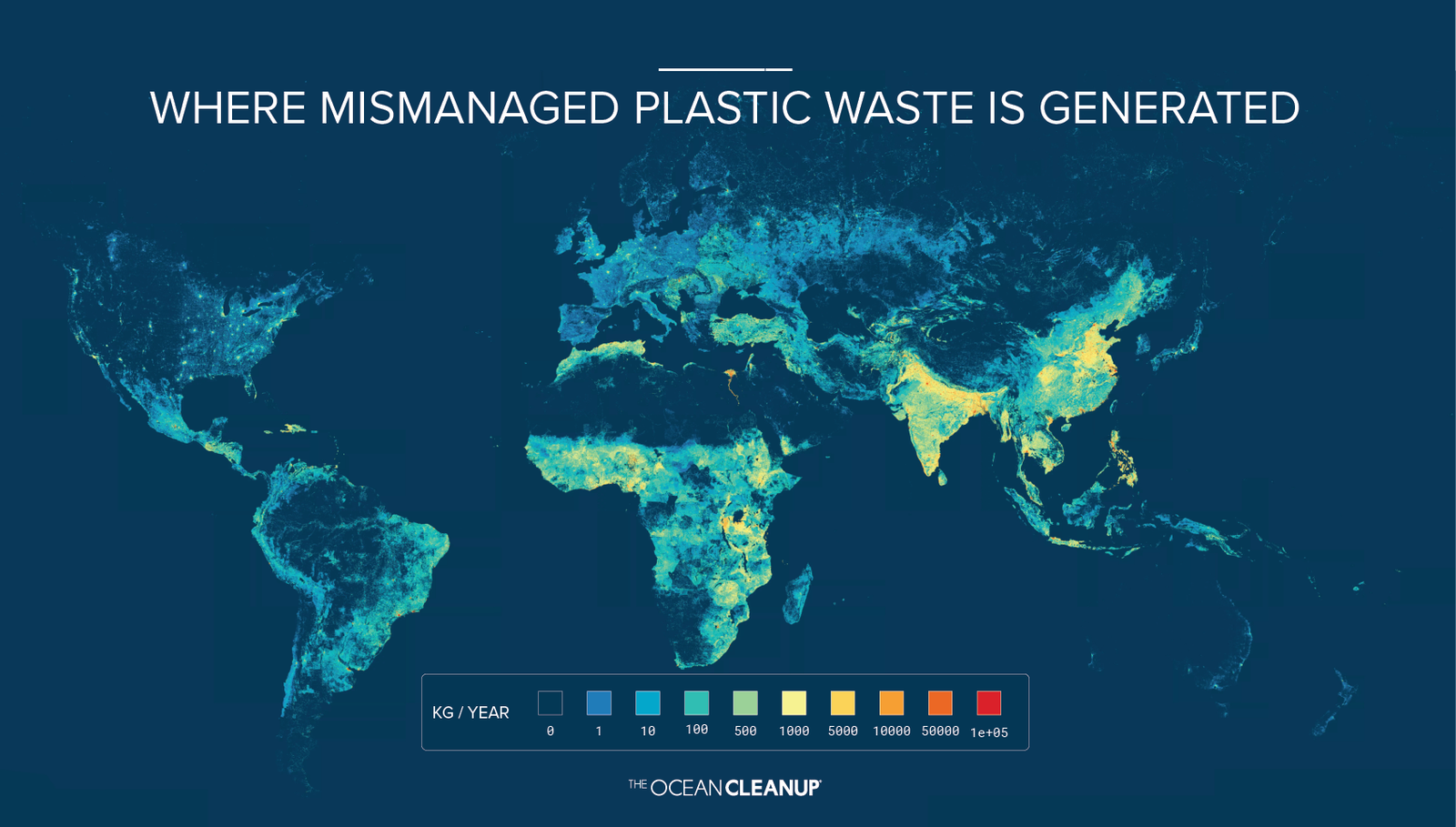 In September 2021, global plastic waste has risen up to 75.9% of the entire plastic consumption. In 2019, the global plastic production amount was 368 million metric tons and after one year, this amount has increased by 3.5 percent in terms of the compound annual growth rate. The sum is approximately equal to the total weight of the earth's population. Among this, up to 50% of plastic is for single use and is disposed of immediately after use.
Approximately 6.3 billion tonnes of plastic were discarded as waste, of which around 79% has accumulated in landfills, 12% was incinerated, and 9% recycled. Only 1% of all plastic has ever been recycled more than once.
Now let's take a look at how Polymaker has contributed to the eco-friendlier road in the past year. Polymaker has led several steps in reducing carbon footprint following four key developments.
Ⅰ Curbing plastic contamination, Polymaker launched bioplastic filament PolyTerra™ PLA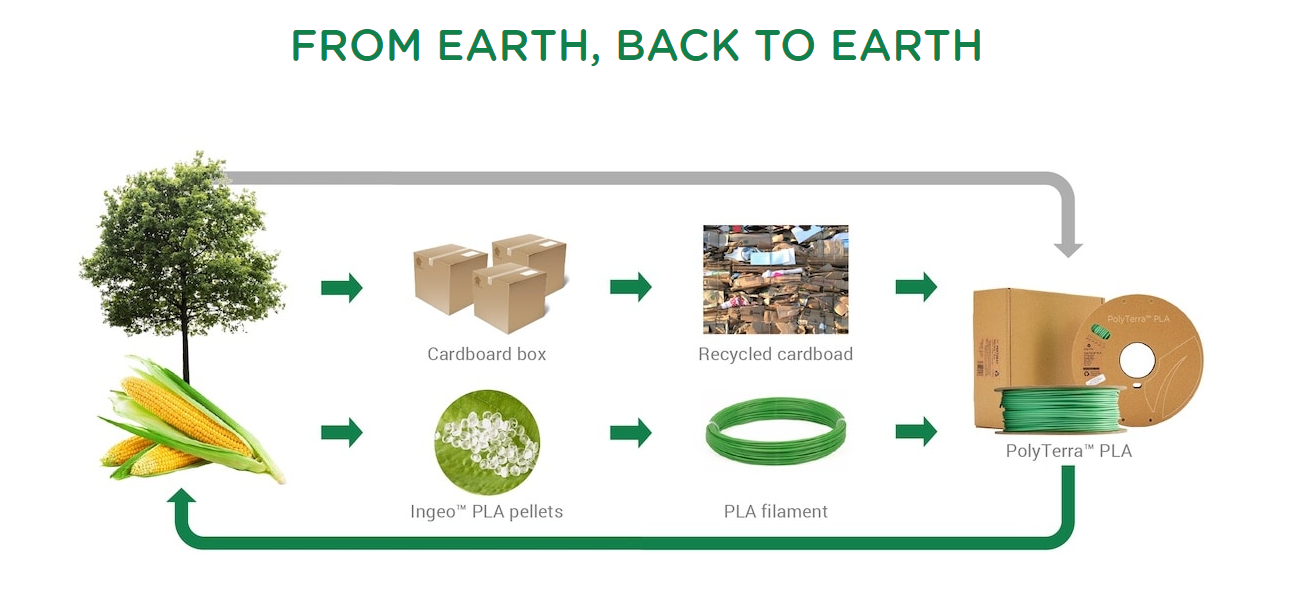 Detached from the traditional petroleum-based raw materials, Polymaker has developed the bio compound 3D printing filament PolyTerra™ PLA and launched in February 2021. PolyTerra™ PLA, extracted from plant photosynthesis, combines PLA bioplastic and biocomposite into one 3D printing filament. Compared with its petroleum-based counterparts, this filament is bio-based. The petroleum-based filament used to be the ideal choice for common 3D printing users due to its wide applicability. However, the old petroleum-based system is facing a turning point now, people no longer seek after unsustainable and limited resources, on the contrary, more environmentally adaptable bio-based ones are more attractive to them. PolyTerra™ PLA produces less carbon footprint than ordinary petroleum-based counterparts in the manufacturing process. PolyTerra™ PLA is also well-known for its biodegradability to which extensive independent reports have been created. Petroleum-based material needs a much longer time than bio-based filament in terms of decomposing. Unnecessary prints could be thrown away and normally end up in the landfill which takes thousands of years in natural degradation. PolyTerra™ PLA decomposing takes a much shorter time than that.
PolyTerra™ PLA is not only fashioned for its bio-compound nature but also the adoption of 100% cardboard spool has accelerated its circulation. The similarity between PolyTerra™ PLA and its outer packaging can be assorted into their decomposability. Under the right conditions, microorganisms and other substances decompose paper fibers from the cardboard packaging and return all organic elements to earth.
Ⅱ Altering plastic mainstream position, Polymaker transitions all plastic spools to 100% recycled cardboard spools
As the initial bio-product of Polymaker, PolyTerra™ PLA is the inspiration of another movement. The success of PolyTerra™ PLA led to the transformation of cardboard spools. Polymaker decided to enlarge the scale of cardboard spool manufacturing. Now the company is gradually replacing all plastic spools with 100% recycled cardboard spools.
Cardboard spool combines many meaningful elements in its design process. Apart from the new cardboard spool's recycled nature, the entire part of which is available for generic paper recycling. For example, the empty spool can easily be ripped apart into two cardboard faces and a cardboard tube. Then, the old paper information sheet has been replaced by the product QR code. Via scanning it, customers can easily get all product info such as printing profiles, TDS, SDS…. By doing so, a large amount of paper consumption has been saved.  In the meantime, the simplification of outer packaging reduces the carbon footprint emission in manufacturing.
Ⅲ Reducing carbon footprint, the initiation of PolyTerra™ PLA One Tree Planted program maintains ecological balance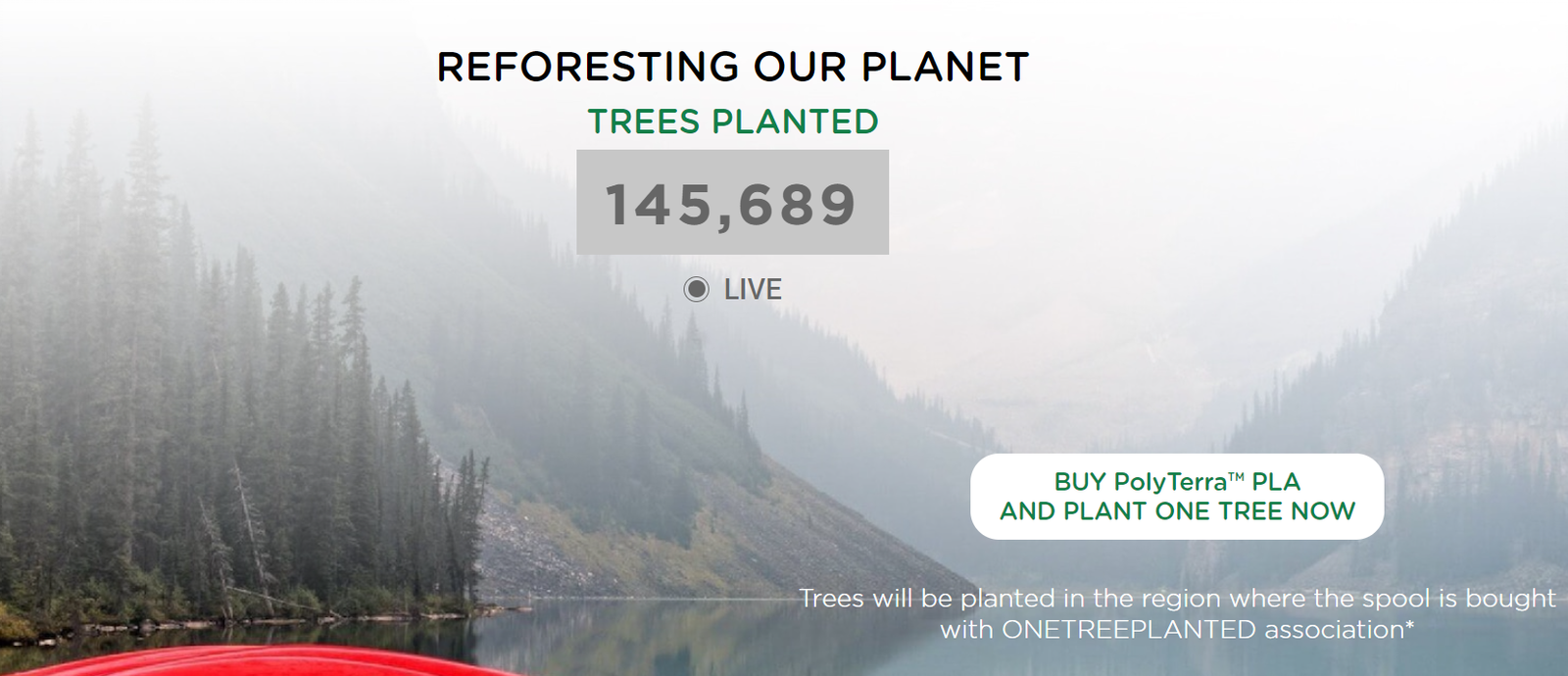 With the launch of PolyTerra™ PLA, Polymaker announced a partnership with One Tree Planted in conducting the reforestation plan. For every spool of PolyTerra™ PLA sold, One Tree Planted, a non-profit planting organization will plant a tree local to where one spool sold. Up to now, over 140 thousand various types of trees have taken deep roots in several continents including Asia, Europe, Oceania, North America, and other regions. According to data shown on One Tree Planted, a sapling will need 5-10 years to reach its maturity and one mature tree can absorb an average of 22lbs of carbon dioxide per year. Therefore, within one year, Polymaker and its PolyTerra™ PLA customers will effectively remove over 2.2 million lbs of carbon dioxide from the atmosphere.
The growing plantation of trees will suck in greenhouse gases and cool the earth's temperature in the long run. As natural friends of mankind, trees work as the perfect purifier of air and water and provide habitat for more than 80% of terrestrial animals.
Ⅳ Cutting plastic waste, Polymaker develops 3D printing filament Polymaker™ PC-r through recycled waste plastics.

Moreover, Polymaker combines ecosystem protection with the recycling of plastic products.
Based on the conception of recycling discarded plastic, Polymaker collaborated with Covestro, a globally leading material supplier, in developing a polycarbonate filament for 3D printing. This material is named Polymaker™ PC-r, which selected raw materials on 19-liter bottles from Chinese water supplier Nongfu Spring. These discarded water bottles contain polycarbonate in a fairly pure form. Covestro blends the plastic waste with virgin material to yield a polycarbonate base that can extrude into filaments for use in electronics automotive and other industries. Compared to virgin material, filaments using recycled material have more advantages. Firstly, it produces a lower carbon footprint. The single-sourced material also eliminates the need for prior plastic sorting and identification that save manual labor hours. Secondly, the abundant source of raw materials comes from mineral water buckets that have high purity can be recycled cost-effectively. The above elements demonstrate the economic value of this technology upgrading, while at the same time, the development of Polymaker™ PC-r also stands up to the test of marketing requirements. By combining 3D printing technology in industrial production, Polymaker™ PC-r can provide strong support for brands looking to build sustainable supply chains. Endured with relevant professional tests such as blue Angel and EPEAT (Electronic Product Environmental Assessment Tool), this filament's durability has met up to the production requirements of specific industries. Thus, it applies to various demands.
Polymaker is working on
more substantial solutions on ecosystem preservation and sustainable development and will move forward on optimizing production lines and developing sustainable products, that is the multi-year plan for all.