Polymaker announces the worldwide launch of PolyLite™ ASA, the fifth member of the PolyLite™ family rounding up the most popular 3D printing materials available today.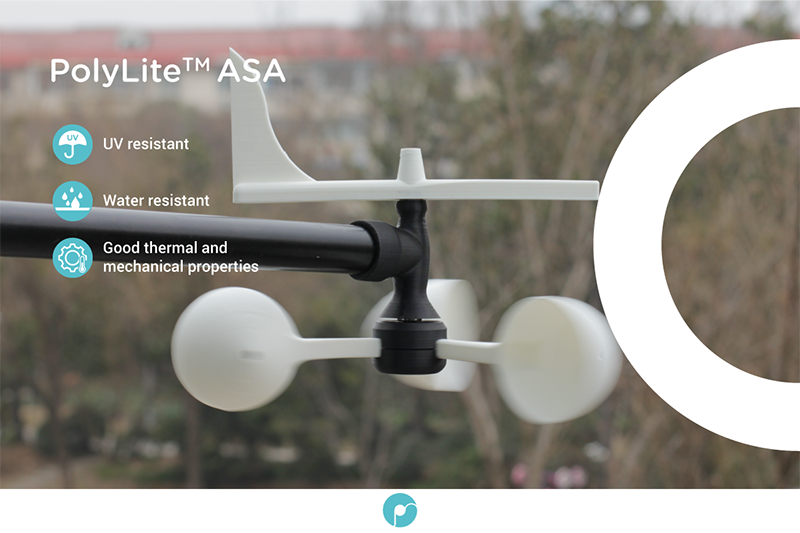 What is ASA?
ASA (Acrylonitrile Styrene Acrylate) is a thermoplastic with properties similar to ABS (Acrylonitrile Butadiene Styrene), which you might be able to guess from their full names as they share two monomers. ASA features good mechanical strength and thermal properties, but its outstanding feature is its weather resistance, which makes it an ideal candidate for outdoor-use.  As a 3D printing material, ASA has already become a popular choice for automotive prototypes, in construction, and household applications. Now Polymaker has made it widely available for users to print parts that can withstand the elements.
About PolyLite™ ASA
PolyLite™ ASA is similar to ABS but with improved weather resistance. Its UV resistance and excellent mechanical properties make it the perfect choice for real-life applications or parts that will spend time outdoors. Weather resistance can be broken down into 3 factors: UV resistance, water resistance and thermal stability of which ASA outperforms many other plastics.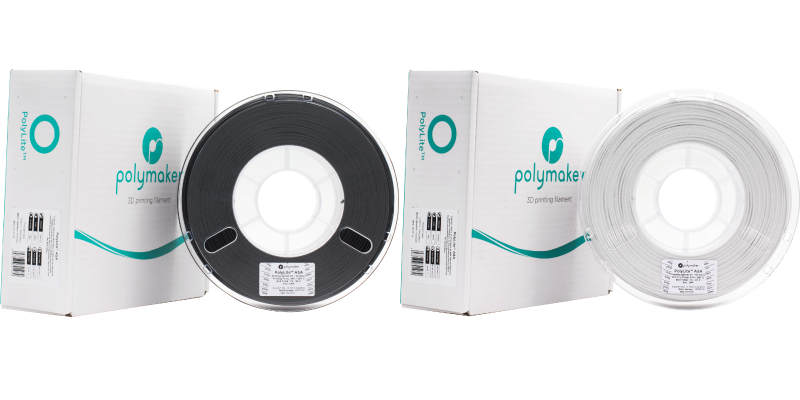 Key features:
- Good thermal and mechanical properties:
To break it down, PolyLite™ ASA performs better in both thermal and mechanical properties compared with general ABS filaments. It also features a Vicat softening temperature of 105℃ which slightly exceeds ABS.
- UV resistant
Most plastics tend to become brittle and their color turns yellow when exposed to UV radiation or sunshine. 3D prints of PolyLite™ ASA are UV resistant meaning their appearance and mechanical properties are not influenced negatively by UV light.
- Water resistant
PolyLite™ ASA  is resistant to Environmental Stress Cracking. This allows printed parts to face the outdoors, high humidity and rain over long periods of time.
Advantages:
Polymaker developed and produced the 3D printing material for the world largest 3D printed pedestrian footbridge project completed by Shanghai Construction Group. Polymaker was invited to join this project from the very beginning to help develop a custom ASA 3D printing material for the bridge. During the whole processes, through plenty of tests and experiments, Polymaker has mastered the properties, compounding formulas and production techniques of ASA. As a result, PolyLite™ ASA gains several advantages over other ASA filaments:
- Tougher
PolyLite™ ASA has better mechanical properties and is tougher than other brand ASA filaments. (More information on the technical data sheet below)
- Better flow
PolyLite™ ASA is engineered to have the best in class melt index, PolyLite™ ASA filament can be extruded smoothly and easily.
- Better layer adhesion
With experience gained from the 3D printed bridge, our engineers have developed an ASA filament with exceptional interlayer adhesion.  PolyLite™ ASA displays better layer-bonding performance than similar products.
Printing tips:
- Building platform surface
Similar to ABS, PolyLite™ ASA tends to warp during printing. To ensure the success of printing, we recommend using BuildTak® or Magigoo on the build surface.
- Turn off the cooling fan
Deactivating the cooling fan will reduce warping and delamination.
- Build an enclosure for your printer
A printing enclosure will help retain heat for large prints increasing the performance of the final parts.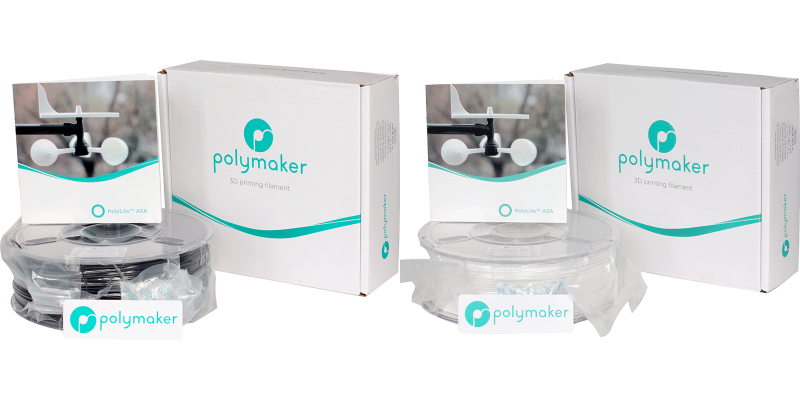 Availability
PolyLite™ ASA is now available in both 1.75mm and 2.85mm in White and Black. You can find it on polymaker.com, Amazon, and through our Polymaker resellers.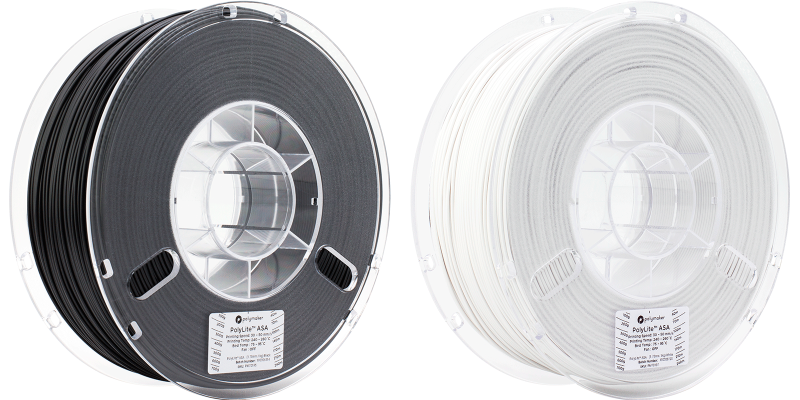 PolyLite™ ASA Technical Data Sheet