Formnext + PM South China has successfully ended a three-day exhibition from 9.9-9.11 in Shenzhen World Exhibition and Convention Center.
9,330 professional visitors have been visited the exhibition, and the total number of visitors reached 16,742 for the three days based on official statistics. The 15,000 square meter exhibition area attracted nearly 200 outstanding exhibitors, with companies from home and aboard displaying cutting-edge technologies and products at the show.
As frequent exhibitors of Formnext in Frankfurt, Polymaker also participated in this year's Formnext Shenzhen exhibition, and showed a wider range of materials and more exquisite printing products than previous exhibitions.
The Polymaker booth was divided into three exhibition areas: PolyTerra™ game area, product, model display area and PolySmooth™ castle area for increasing more interaction with our visitors. Let's review the various impressive moments of this year's exhibition.
PolyTerra™ gaming area
PolyTerra™ PLA area is highly praised as usual. We brought puzzles, building blocks, making and stacking games all printed with PolyTerra™ PLA. In the process of interaction and games, we showed the audience the material properties of PolyTerra™ and share our environmental protection activity relating to PolyTerra™ PLA: one tree planted with every spool sold. Since launching in February, our customers have planted tens of thousands of trees on our beautiful planet!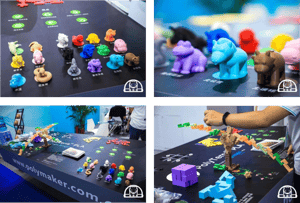 Polymaker display area of products and models
Polymaker brought 25 types of filaments coving a wide range of usages for all industries utilizing 3D printing.
For each filament, there are corresponding sample models next to them on the exhibition board to highlight their specific properties and applications.
PolySmooth™ castle
Printing the entire castle took nearly 400 hours with PolySmooth™, the filament that can be easily vapor polished by alcohol. During the exhibition, the castle has also become a sightseeing spot attracting many visitors to delve into the miniature world and take pictures.