Polymaker announces another round of investment and launches of PolyMax™ PETG, PolyDissolve™ S1, and PolyCast™ at Formnext
Polymaker recently announced another round of investment led by Skytrace Capital and followed by ShareLink Capital.
Polymaker, known for producing high quality and innovative 3D printing materials throughout the industry, has been growing rapidly ever since it was founded.  Polymaker has developed a global distribution channel in over 100 countries and regions which is  headquartered in Shanghai with offices in Utrecht, Netherlands and Savannah, U.S.
Polymaker produces high quality 3D printing materials with a comprehensive range of properties and functions, ranging from high engineering strength to unique aesthetic solutions.  Polymaker keeps adding new innovative, cutting edge materials to continually grow their portfolio.
To meet the industrial-grade and enterprise-level needs, Polymaker Industrial was established at the beginning of 2017. In a short time, many milestone achievements have been realized up to date.
"Polymaker succeeded again in gaining investment against the trend of depressive capital winter. It proves the fact that 3D printing industry is still developing rapidly, and Polymaker's development and strategies obtain the trust from both the capital and markets." Polymaker President Dr. Xiaofan Luo explained.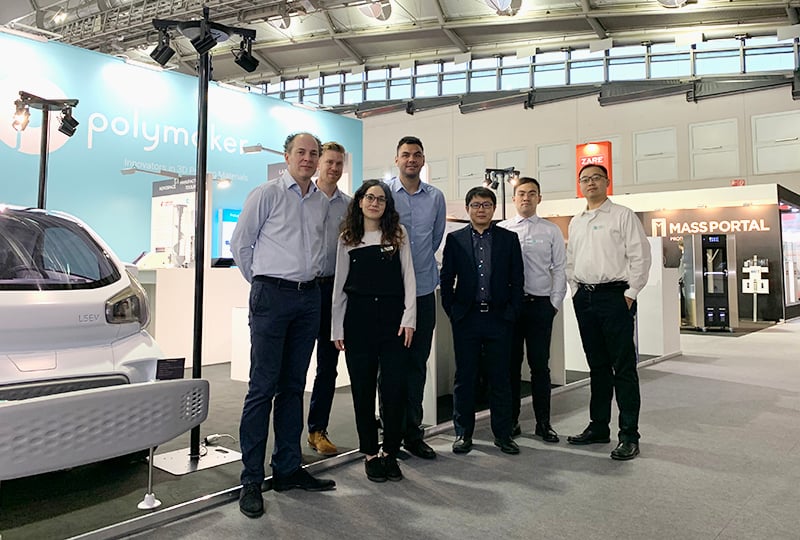 Polymaker has contributed 6 new products this year and taken part in many ground breaking applications in 3D printing, such as the XEV 3D printed vehicle and the world's largest plastic printer. At Formnext 2018 in Frankfurt on 13th – 16th November, Polymaker exhibited 3 new products: PolyMax™ PETG, PolyDissolve™ S1, PolyCast™.
PolyMax™ PETG offers better mechanical properties than any other regular PETG making it a good candidate for a wide range of applications.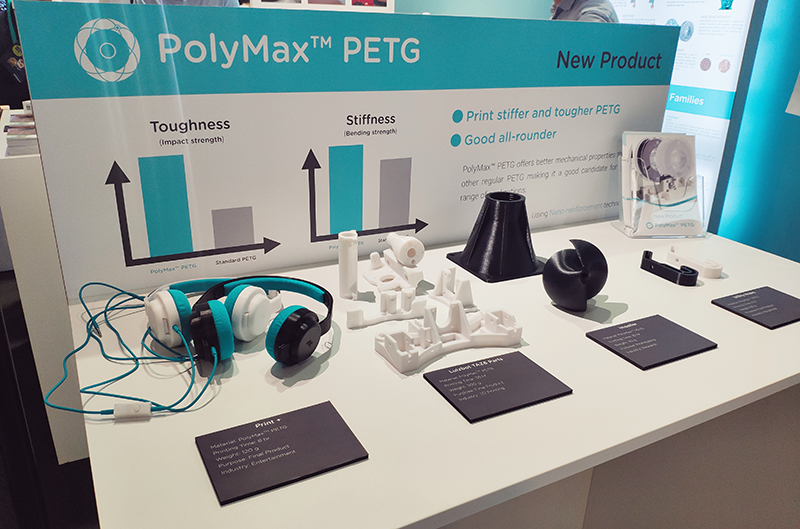 PolyDissolve™ S1 is a water dissolvable support for PLA, TPU, PVB and Nylon based filaments from our portfolio. It is specifically engineered to have a perfect interface with these materials while also displaying good solubility.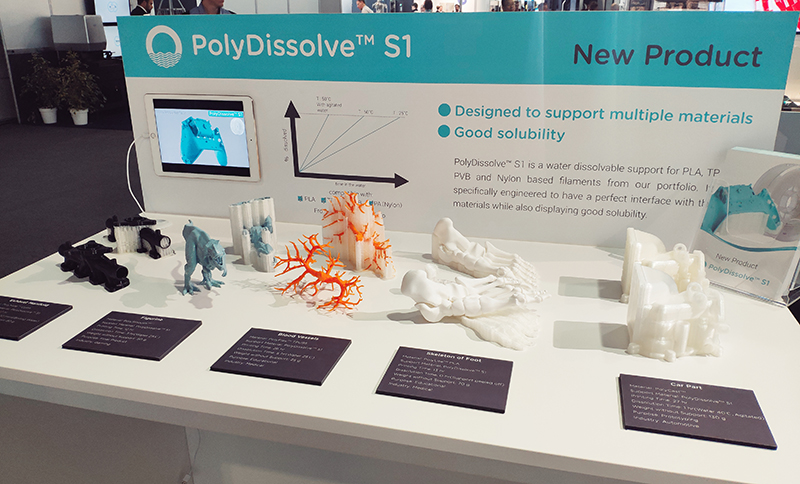 PolyCast™ is a filament designed to produce investment patterns for investment casting applications. 3D printing significantly cuts down both the cost and lead time by eliminating the tooling process.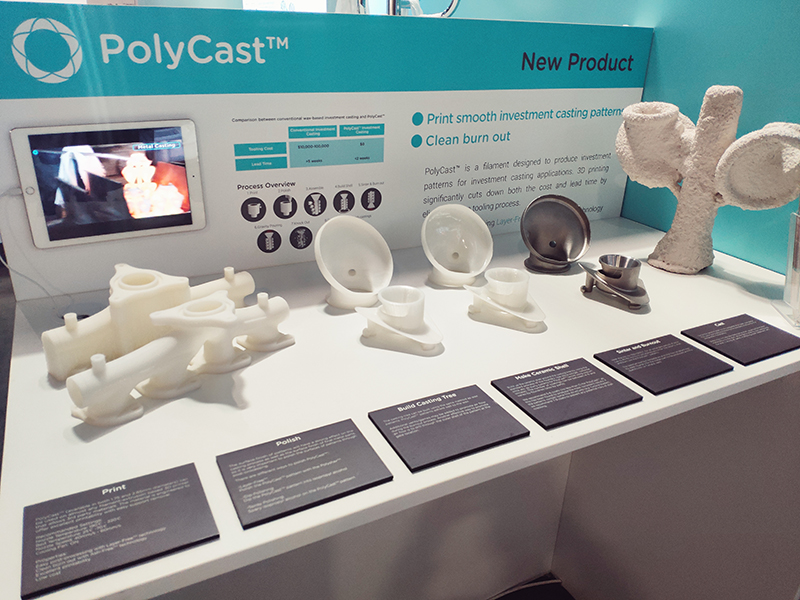 New N600(Nylon 6) series from Polymaker industrials were firstly shown to the public at Formnext as well. The N600 series are a new set of Nylon 6 based filaments with excellent mechanical properties and heat resistance. Designed for applications that require strong parts such as tooling in automotive, aerospace, industrial manufacturing and consumer goods. The N600 series is equipped with Polymaker's Warp-Free™ Technology which allows large scale printing without a heated chamber. The first three N600 series products are N600 (Nylon 6), N600GF25 (Glass fiber reinforced Nylon 6) and N600CF20 (Carbon fiber reinforced Nylon 6).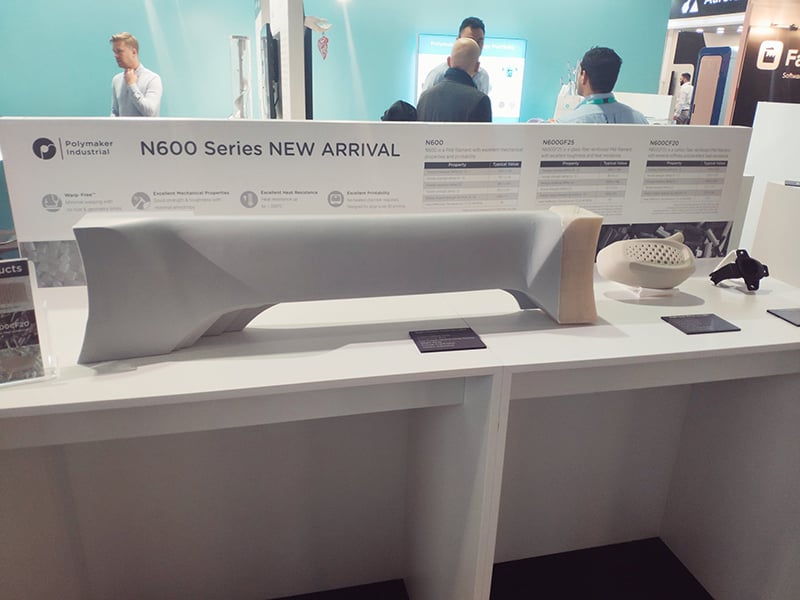 N600 is a PA6 filament with excellent mechanical properties and printability.
N600GF25 is a glass fiber reinforced PA6 filament with excellent toughness and heat resistance.
N600CF20 is a carbon fiber reinforced PA6 filament with extreme stiffness and excellent heat resistance.
Apart from these new amazing products, Polymaker also showed some of latest industrial-grade and enterprise-level applications.
Belgium automotive modification company, Custom Import Arts, uses PolyMide™ CoPA to make customized air intake for NSX sports car. The air intake part shown at Formnext has been sanded and painted, it can be used as final part. This application illustrates the great advantage of 3D printing large size part with PolyMide™ CoPA. Polymaker patented Warp-Free™ Technology allows large scale printing without worrying about warping problem. And it is easy to do post-processing for PolyMide™ CoPA, the outstanding mechanical and thermal properties also make it a perfect choice for a wide range of practical applications.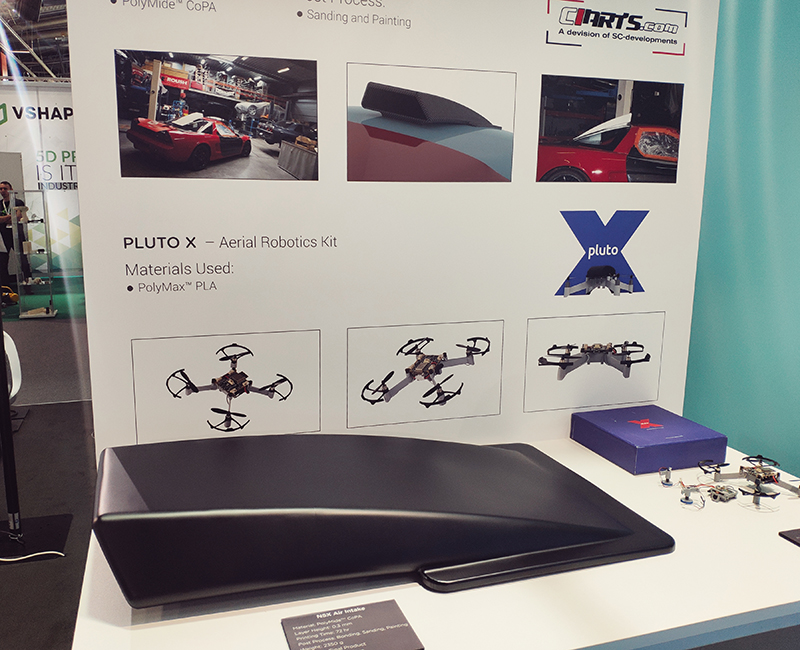 Indian company, Drona Aviation, chooses to use PolyMax™ PLA to fabricate the frame of their new generation product Pluto X. PolyMax™ PLA is equipped with Polymaker's Nano-reinforcement technology which makes it around 8 times tougher than normal PLA and about 20% tougher than ABS. Pluto X is an easy DYI, programmable and crash resistant drone thanks to PolyMax™ PLA.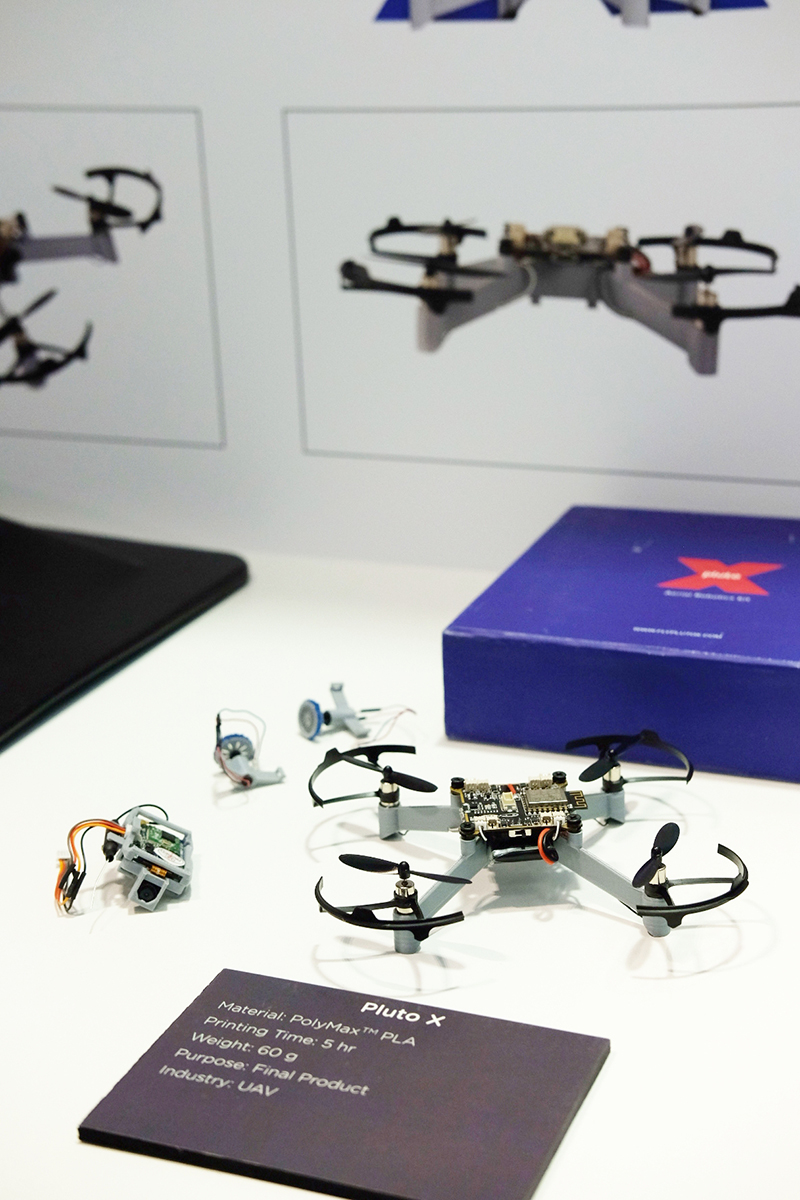 Czech brand, Laura Jonas, uses PolyMax™ PLA, PolySmooth™, and PolyWood™ to design and produce jewelry including: Necklace, earrings, bracelet or even rings. The high quality Polymaker materials and unique aesthetic options allow Laura Jonas to bring their design to life. Skilled designers take full advantages of 3D printing technologies, Polymaker materials' aesthetic colors, the great toughness of PolyMax™ PLA, and the unique surface finish of PolySmooth™ and PolyWood™.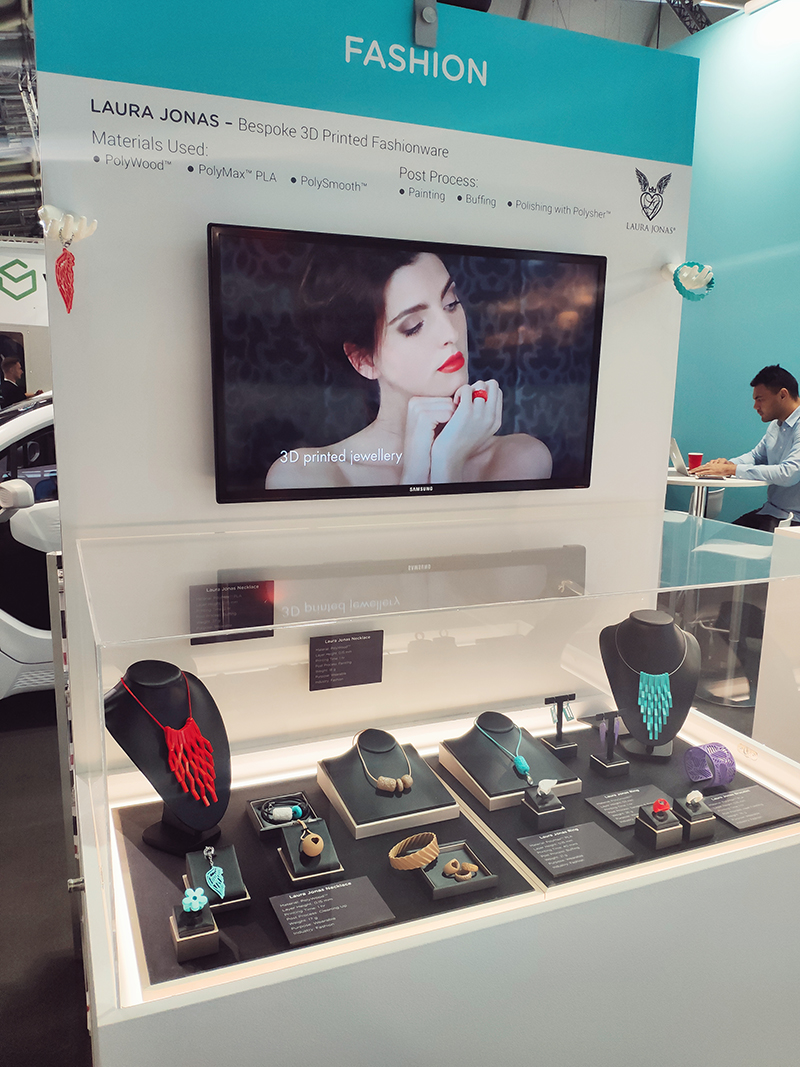 One of the most attractive case studies of the Polymaker booth was made in partnership with Infinite Dimensions. This whole village has been printed using PolySmooth™. After polished by Polysher™, these miniatures maintain all the details and can be easily painted.
Polymaker is working closely with Shanghai Construction Group (SCG) and Coin Robotics to unlock large scale 3D printing. SCG is behind the shanghai tower (second tallest tower in the world) and the Shanghai subway (largest underground network system in the world). The goal of the first project is to print a large pedestrian bridge. With their 24m by 4m by 1.5m 3D printer, they are using our special ASA reinforced material to ensure the best properties for the process and application.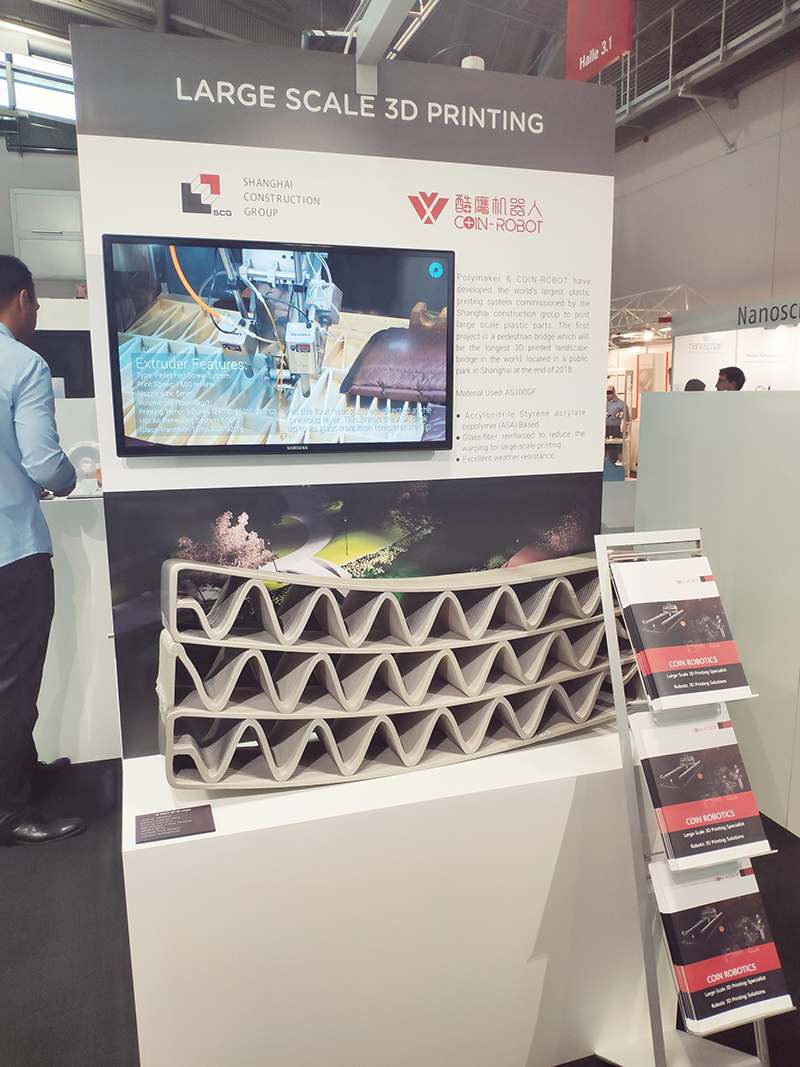 Polymaker provides polycarbonate C515FR to China Eastern airline helping them to manufacture the cabin interior parts replacements by 3D printing them in house in order to save cost and cut down lead time. C515FR is a flame-retardant material which can score V-0 in a UL-94 test. It also has excellent mechanical properties and can be easily post processed.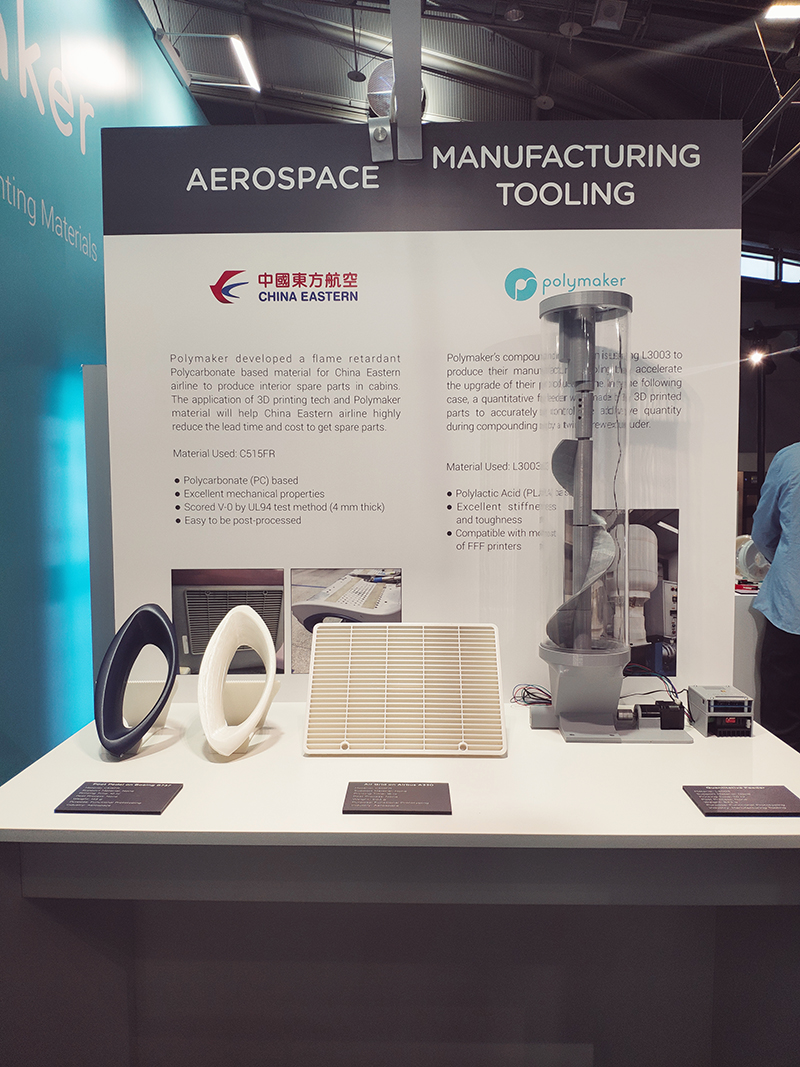 The world first mass-producible 3D printed car – LSEV appeared on Polymaker booth. This car is planned to be mass produced using extrusion based 3D printing with the new Polymaker Industrial N600 series of materials. The bumper and rocker cover from the 2rd generation of LSEV prototype were exhibited to demonstrate the agility and iteration capability of adopting 3D printing in manufacturing.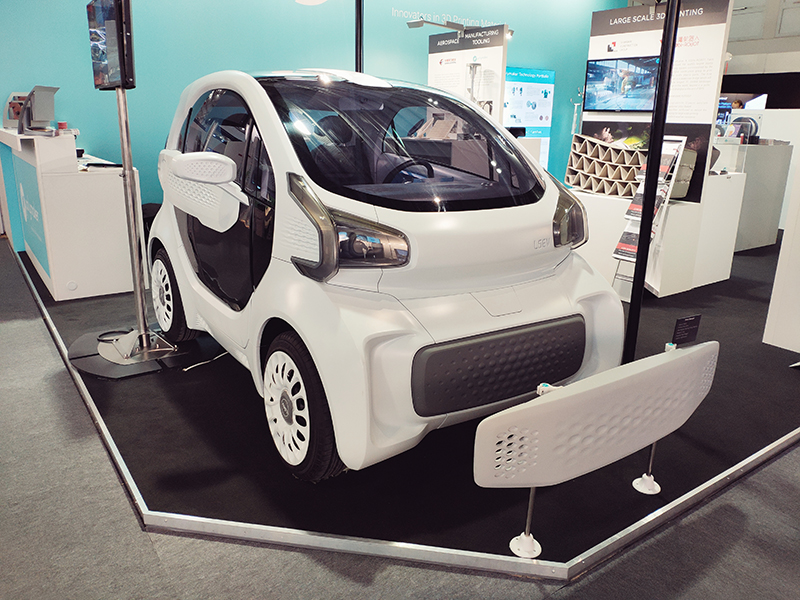 It was a great opportunity for Polymaker to present new products, new technologies and the latest industrial applications at Formnext. A lot of interests, inquiries and compliments were received. Polymaker will continue to display new innovations in 3D printing through the application of their materials.
About Polymaker
Polymaker is a company dedicated to developing new and functional materials for the 3D printing industry. Polymaker has won two major awards in 2017: "Material Company of The Year" from 3D Printing Industry and "Technology Innovation Award – Materials" from TCT. This marks the company's growing reputation which has become more widely recognized at a global scale. Headquartered in Shanghai, China, Polymaker now has global offices in the USA, Netherlands and Japan. With their state-of-the-art research and development center, Polymaker is pioneering the development of engineering grade materials for use across many industries.