Polymaker boasts an ever-growing portfolio of cutting edge materials, with 17 unique products covering all your 3D printing needs. The Polymaker team wants to offer a convenient and cost-effective way for its customers to try and experience all of the different materials. These sample boxes allow users can find the most suitable filament for their application while also discovering new 3D printing materials.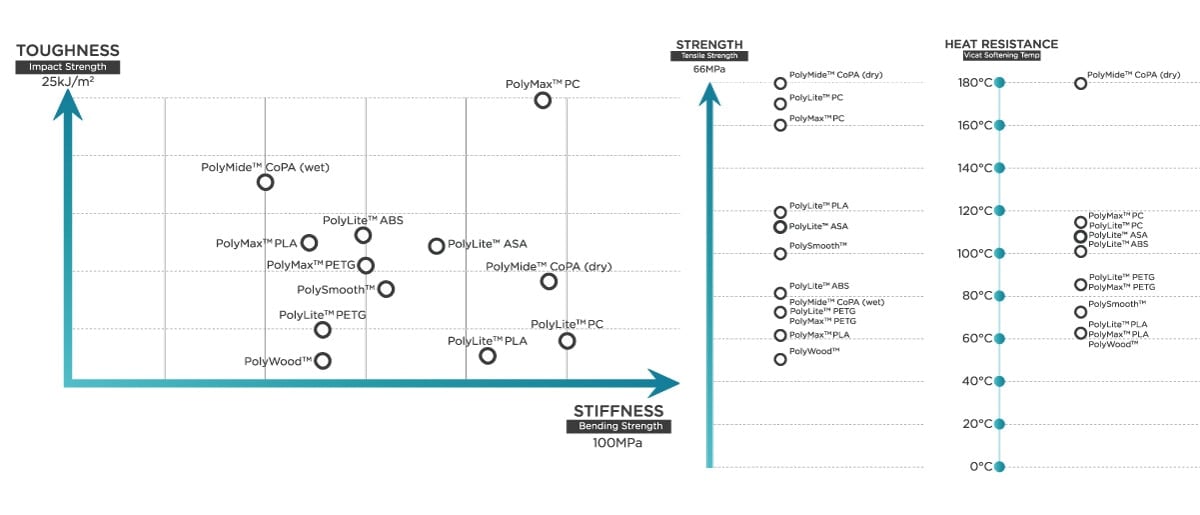 Polymaker introduces Sample Box 1, Sample Box 2 and Sample Box 3 to the market.
Sample Box 1
Sample Box 1 contains 7 kinds of commonly used 3D printing filaments with each sample weighing 50g. All materials in Sample Box 1 are easy to use and are compatible with many 3D printers.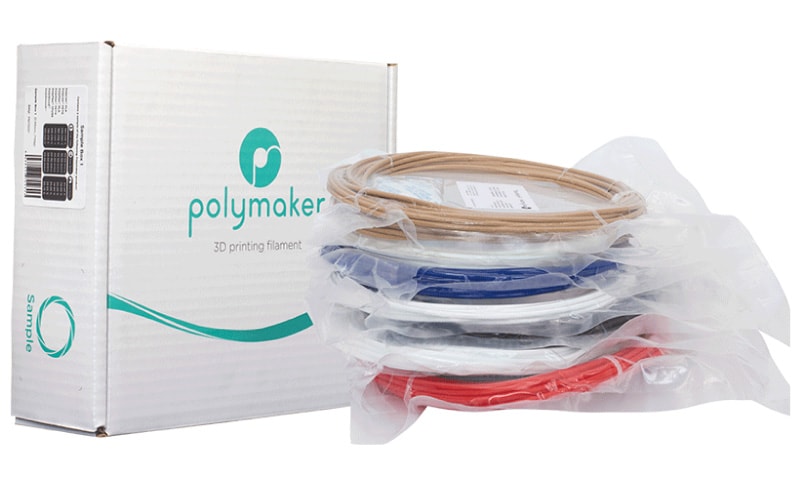 PolyLite™ PLA
PolyLite™ PLA is a high-quality PLA designed for reliability and ease of printing.
PolyLite™ PETG
PolyLite™ PETG is an affordable PETG filament with balanced mechanical properties and ease of printing.
PolyMax™ PLA
PolyMax™ PLA is an incredibly easy-to-print filament with improved mechanical properties, making it an excellent alternative to ABS.
PolyMax™ PETG
PolyMax™ PETG offers better mechanical properties than any other regular PETG making it a good candidate for a wide range of applications.
PolyFlex™ TPU95
PolyFlex™ TPU95 is a thermoplastic polyurethane (TPU) based filament specifically engineered to work on most desktop 3D printers. It has a shore hardness of 95A and can stretch more than 3 times its original length.
PolyWood™
PolyWood™ is a wood mimic filament without actual wood powder, which removes all risks of nozzle clogs. PolyWood™ is made entirely with PLA using a special foaming technology. It exhibits the same density and appearance as wood.
PolySmooth™
PolySmooth™ is a unique, easy-to-print filament designed for hands-free post processing. The surface can be smoothed with alcohol to achieve layer free models using the Polysher™.
Sample Box 2
Sample Box 2 contains 7 kinds of engineering 3D printing and supporting material, each weighing 50g. These products display better overall mechanical strength and thermal properties than the materials featured in Sample Box 1. Theses samples require a 3D printer with an enclosure or with dual extrusion capabilities.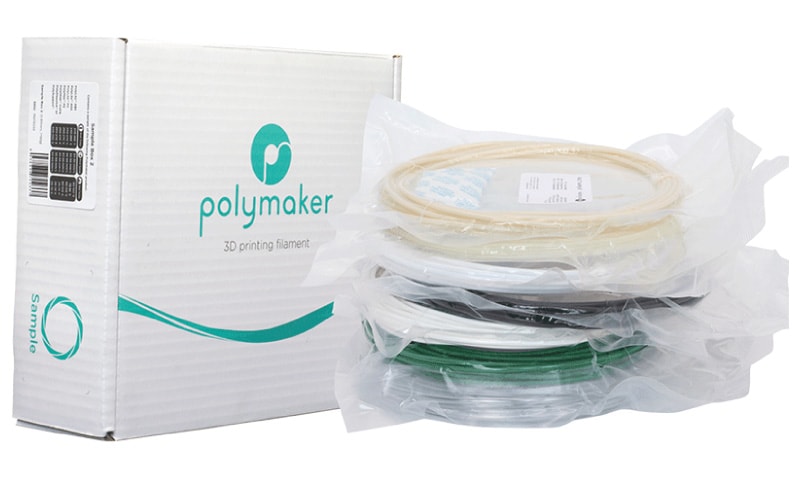 PolyLite™ ABS
PolyLite™ ABS is made with a specialty bulk-polymerized ABS resin, which has significantly lower volatile content compared to traditional ABS resins. It delivers excellent printing quality with minimal odor during printing.
PolyLite™ ASA
PolyLite™ ASA is an alternative to ABS with improved weather resistance. Its UV resistance and excellent mechanical properties make it the perfect choice for real-life applications.
PolyLite™ PC
PolyLite™ PC is produced using a polycarbonate resin specifically engineered for 3D printing. It delivers good stiffness and heat resistance with light-diffusing properties.
PolyMax™ PC
PolyMax™ PC is an engineered PC filament combining excellent strength, toughness, heat resistance and printing quality. It is the ideal choice for a wide range of engineering applications.
PolyMide™ CoPA
PolyMide™ CoPA is based on a copolymer of Nylon 6 and Nylon 6,6. The filament combines excellent strength, toughness, and heat resistance of up to 180˚C.
PolyDissolve™ S1
PolyDissolve™ S1 is a water dissolvable support for PLA, TPU, PVB and Nylon based filaments from our portfolio. It is specifically engineered to have a perfect interface with these materials while also displaying good solubility.
PolySupport™
PolySupport™ is a breakaway support for Polymaker PLA based filaments. It has a perfect interface with PLA, strong enough to support it and easily removable by hand.
Sample Box 3
Sample Box 3 contains the first two Polymaker Industrial Range products – PolyMide™ PA6-CF and PolyMide™ PA6-GF, and each of them weighs 100g. The industrial range uses cutting-edge technologies to provide reliable, high-quality materials specially engineered for 3D printing in the industrial sector. These samples require a 3D printer capable of reaching a nozzle temperature of 300˚C and equipped with an abrasion resistant nozzle.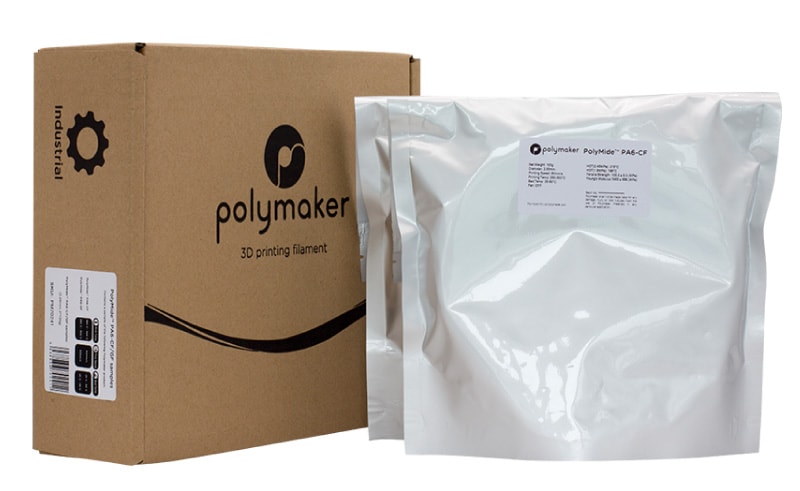 PolyMide™ PA6-CF
PolyMide™ PA6-CF is a carbon fiber reinforced PA6 (Nylon 6) filament. The carbon fiber reinforcement provides significantly improved stiffness, strength and heat resistance with outstanding layer adhesion.
PolyMide™ PA6-GF
PolyMide™ PA6-GF is a glass fiber reinforced PA6 (Nylon 6) filament. The material exhibits excellent thermal and mechanical properties without sacrificing the layer adhesion.

Now Sample Box 1, Sample Box 2 and Sample Box 3 are available in both 1.75mm and 2.85 on www.polymaker.com click the GET A SAMPLE button on any filament product page and Polymaker Amazon shop to try the materials.