As one of the 20 art installations in 'Design Shanghai 2021', "Digital Circular Pavilion" is another innovative work of digital artist, Zihan Zhao, founder of the Spazio Z design studio. The sculpture is standing in front of the old Shikumen building in Xintiandi, Shanghai, with branches growing upward, and gradually forming an organic space to escape from the urban style of downtown Shanghai. The white surface finish of the installation contrasts strongly with the dark gray background color of Shikumen, attracting passers-by to explore and connect within.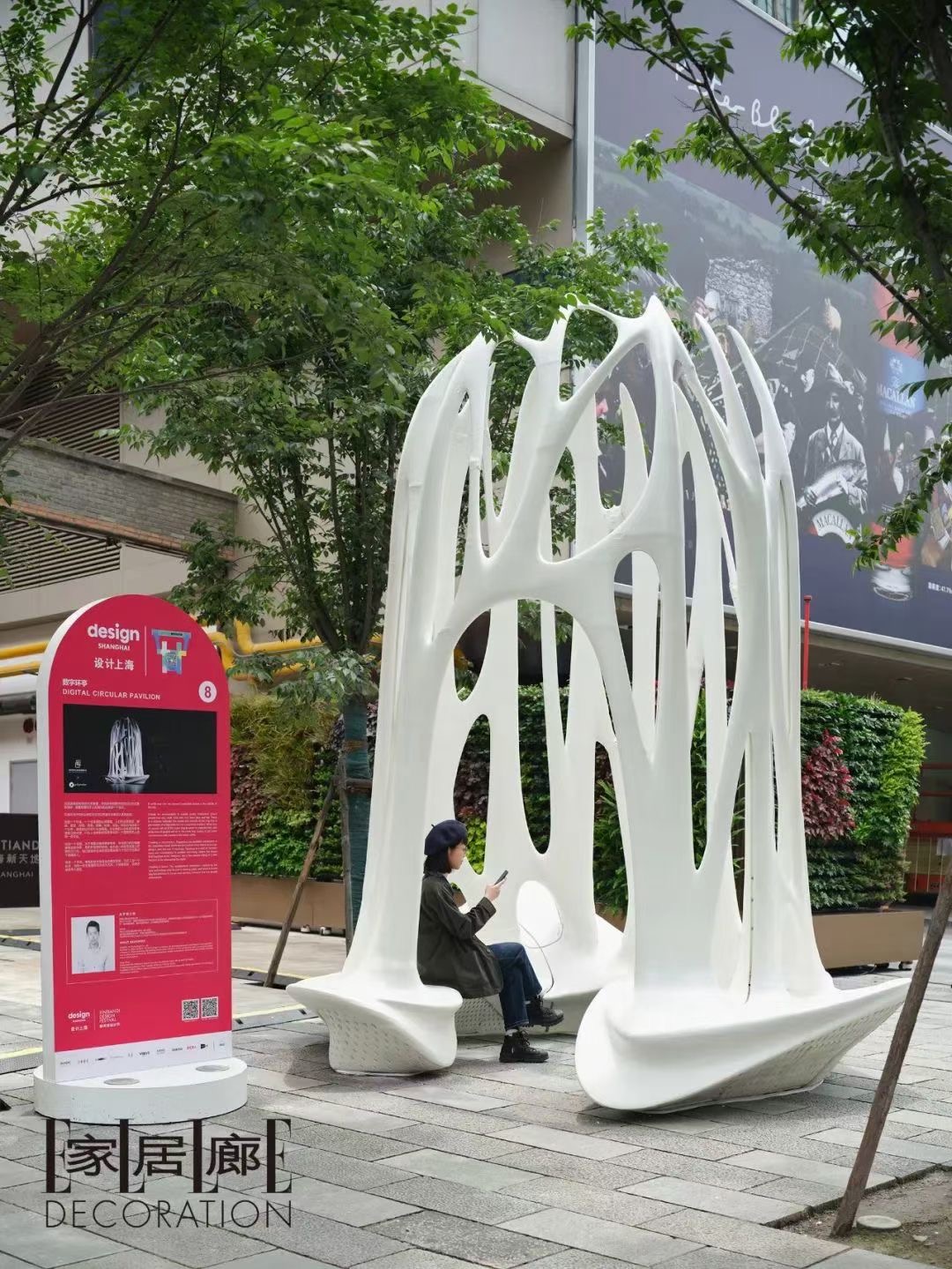 Primarily focusing on the creation of digital art, 3D printing has become the go-to medium, transitioning digital artwork created in Spazio Z into the physical space. To achieve this, the studio has created several custom built large format 3D printers using FFF technology to create modular parts which can be assembled into a larger structure.
The Digital Circular Pavilion is the latest work to emerge from the studio. Printed in 800kg of Polymaker's L3003, an industrial PLA filament designed for high volume printing in production, print farms and large projects. The individual sections of the pavilion are bolted together onto an aluminum armature which allows for easy assembly on site. The pavilion sections have been post-processed into one homogenous organic form by coating the printed surfaces in polyester filler and sanding smooth. This coating process helps to strengthen and protect the PLA from UV and heat radiation and provides a clean smooth surface which translates the form of the design, avoiding any textures or layer lines.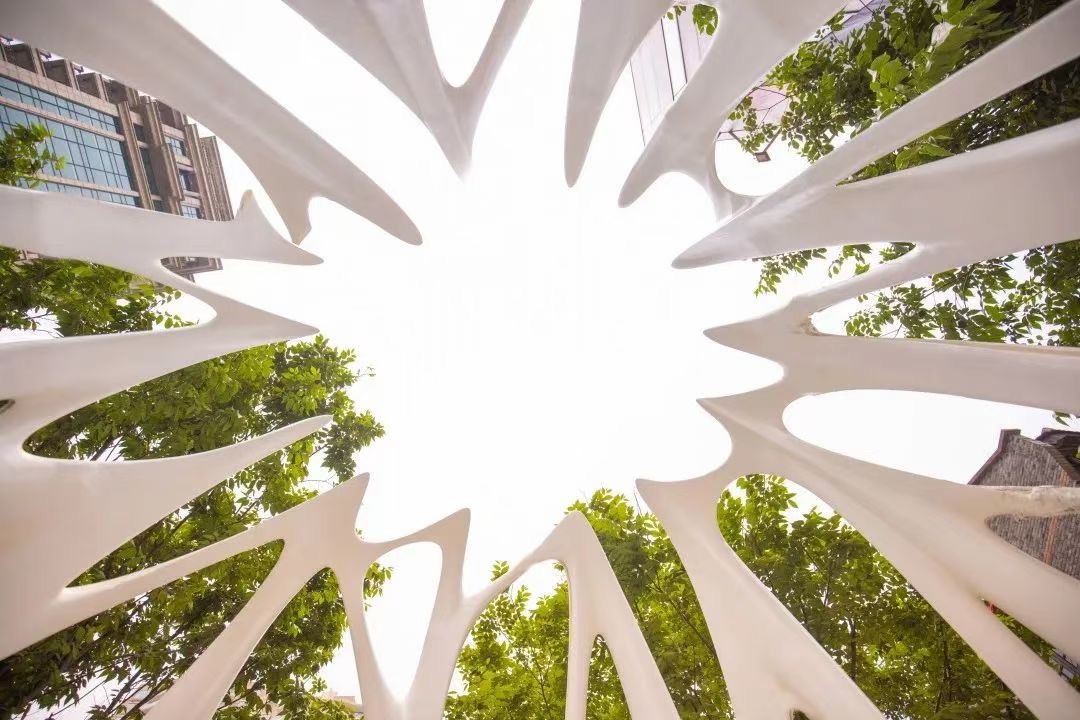 During the inspiration for the design, Zhao Zihan had one question in mind: How do we connect the independent and unrelated people in the city? People are invariably disordered and unpredictable. As a designer, all pre-planning is hypothetical. As a space device, how to realize people's exploration in the city block, social and self-satisfaction is generally accidental every time. Therefore, such a device is more of a medium, carrying a variety of space possibilities in order to bring people together.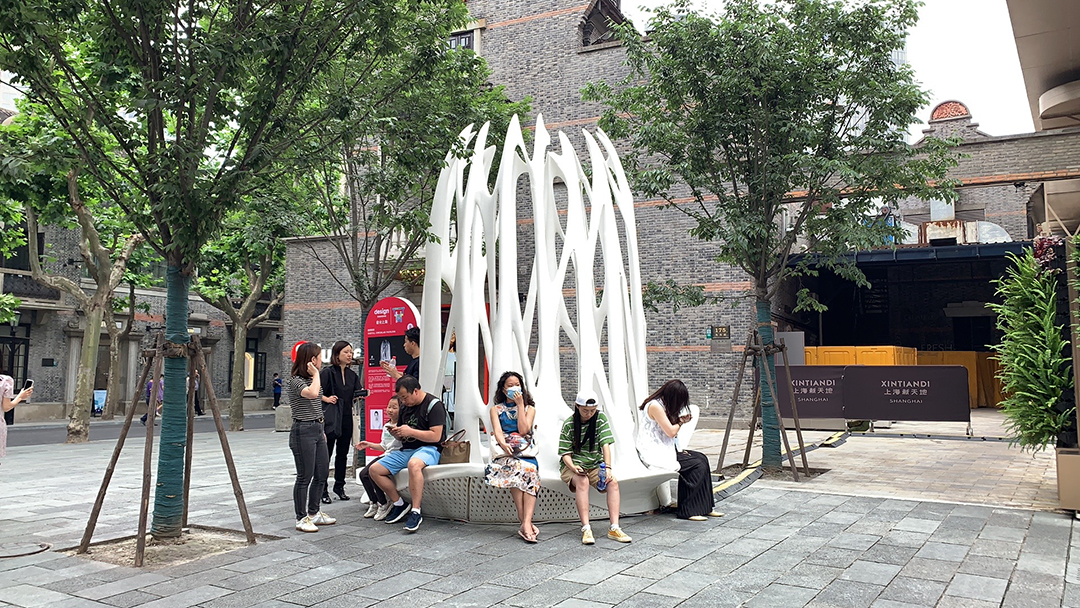 "Digital Circular Pavilion" is a relatively transparent structure, but it still has the function of isolation. The circular form is a natural separation figure, the outer circle is open for visitors to sit and rest. While the inner circle is semi closed, which provides the possibility for a relatively private conversation. At the beginning of the concept, Zihan drew lines of different thickness, depth and density, reflecting the randomness and disorder of human activities, and then simulated them into topological forms through digital technology.
For this work, Zihan Zhao is more inclined to call it "an artistic landscape product", because the artistic expression of its form is far more than its function.
From sketch to parametric model, Zhao Zihan and his team members made a detailed and in-depth analysis on the physical force, overall load-bearing, structural curvature and other factors of a single module. After detailed analysis it was determined that PLA could be a suitable material when backed with an aluminum armature and coated in polyester filler. While there are materials with better mechanical properties available, the reliability and printability of PLA made this project possible. Spazio Z takes advantage of their own 3D printing factory, which can fully demonstrate the printing efficiency, assembly process, cost control and other aspects of production. This allowed more than three square meters of walls to be produced for load testing prior to final construction. Finally, Spazio Z completed the work at a lower cost than the same type of building using traditional methods.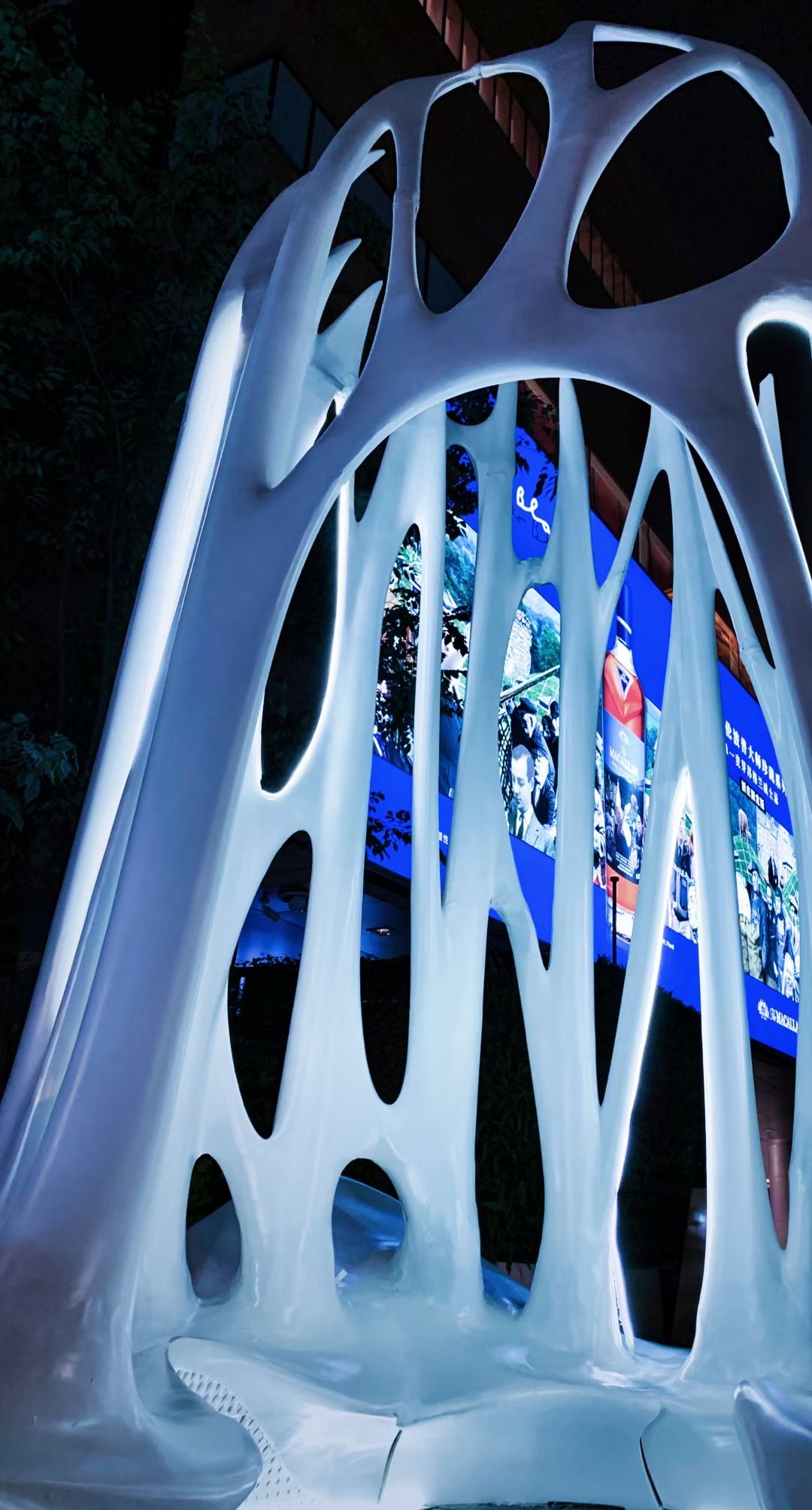 Through the joint operation of 100 large-scale 3D printers, each module is printed separately in one month, and then assembled into five large module groups, which are transported to the site to complete the final assembly and fixation through aluminum alloy components. At the end of the exhibition, it can also be disassembled and recycled.
Zhao Zihan implanted his expectation in "Digital Circular Pavilion": to create a future in which devices or buildings can be reconstructed by digital technology
"Maybe it's just a starting point. When one day it's so common that it is not rare and fancy any more, it shows that it has become very popular." – Zihan
At that time, Zhao Zihan will also explore a new starting point, and the experiment to verify the interaction between architecture and human will never end.